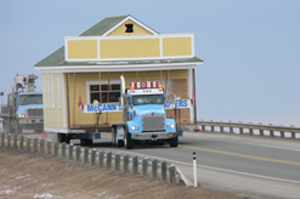 By IRENA KARSHENBAUM Looking back, I can't believe it's been 12 years since The Little Synagogue came to Calgary's Heritage Park Historical Village, the largest living history museum in Canada. It feels like another life.
I remember lying in bed at night, dreaming about this project, how I was going to put a synagogue in Heritage Park. Everything seemed so far into the future.
Then all the things I was wanting to do, planning to do, needing to do, happened. All the nights, all the emails, all the meetings, all the phone calls, all the begging for money, all the running around are now a blur.
There is a false front, yellow, wooden synagogue with a white veranda at Heritage Park today, one of the last rural synagogues to survive on the prairies and have the distinction — and good fortune! — of being included in the permanent collection of any historic park in Canada. The first, and only one. To date.
The Montefiore Institute, as it was originally known, tells the story of early Canadian prairie settlement and that history includes Jews who fled the raging anti-Semitism of Russia and Romania, to the edge of the earth, to Alberta. They built their colony in 1910 in the Palliser Triangle, blanketing much of southeastern Alberta and southwestern Saskatchewan, where nothing was supposed to grow, and in the bitter cold and in the dry, scorching heat, they broke the land. The Jewish people were living on the Canadian prairies from the very beginning, beside the Danes, Italians, Ukrainians, Volga Germans and many others, the Montefiore Institute tells this story today.
The Montefiore Institute was built in 1916, abandoned by the mid 1920s, and moved to Hanna, about 130 kilometres west, around 1940. In time, it was plastered in green and white siding, the porch was covered to create a much-needed extra bedroom for the family's numerous children, an addition was built in the back, and the cutout where the Magen David once looked out into the distant horizon disappeared under siding. Its transformation to an unassuming bungalow was complete. Its Jewish history was lost from memory. The family thought they were living in the most luxurious home they had ever lived in, a conversion from an old church.
Two generations later a motley crew of volunteers found the Montefiore Institute and, after discovering that thanks to the dryness of the climate, it was like new, and would be able to withstand a 230 kilometre trek on a truck from Hanna to Calgary.
Two years had passed since I emailed my proposal to Heritage Park, when we drove to Hanna early one June morning, in 2008, and watched a crew of young men remove the building from its foundation. They inserted giant, square wooden beams under the house and "rolled" them. The building ripped off the foundation and slowly slid on to the truck bed. Oh how those workmen's bodies moved! None of them were big or stocky or bulky – what you'd think they'd have to be for such physically demanding labour. They moved like ballerinas. They were lean, the kind of lean that I have encountered in men who have lived difficult lives. How hard they worked! And when they were done, we gave them pies, bought at a Hanna bakery, as an expression of our gratitude. It felt shameful. They got paid, sure. But it still felt wrong. Like it wasn't enough.
Hanna was left behind and for five long months there was that farm at Strathmore, 50 kilometres east of Calgary, where the synagogue underwent exterior restoration. The ugly siding was removed, and lovely, raw wood was revealed underneath, covered in nails as numerous as a child's freckled face. The nails were yanked, the holes were filled and smoothed and the exterior was painted by the restoration crew that drove out to Strathmore and back to Calgary and back out there and back to Calgary, day after day.
Every time I would speak in public about the project, my voice would crack and a tear would betray me. What's wrong with me? I'd ask. I'm not religious. This isn't even my history, if you think it in simple terms. My family left Kharkov, the Soviet Union in 1978, travelled through Vienna and stayed in Rome before arriving in Calgary in 1979. Those homesteaders came from Russia and Romania in 1910. If you think of it as our collective Jewish history, then sure, this is my history. Maybe my soul knows something my head does not.
People thank me for loving history. It sounds simple. I'm not simple. This is more than loving history. I love ideas. Projects. A good story. Adventure. I love to create things. Work with people, that's when you really get to know them. This is about that. It's about creating beauty in the world, in one small place.
The Little Synagogue races along the highway one late November day in 2008. It has an escort of electrical crews. It slows down, the electrical crews raise the overhead wires and the building slowly passes underneath. Imagine a little yellow synagogue racing down the highway. Very cute. It comes to a stop on the corner of a farm on the outskirts of Calgary because it can't travel through the city in the middle of the day. It will cause traffic jams. We go home and wait 'till night. I'm scared that some kook might burn down our precious jewel. The time can't pass quickly enough, but then it does and we move our kinder, don't shlof we tell it, in the middle of the night. Television crews chase it. It's quite the sight. It would make for a great musical. The name is easy, "Little Synagogue, The Musical!" With an exclamation point. Too bad I can't write lyrics or music or act or carry a tune or tap dance. It might also make a nice Disney cartoon. Barbra Streisand can sing my parts.
The Little Synagogue arrives at Heritage Park at 4:00 o'clock in the morning. The Meshugenah Synagogue Chasers go to Denny's for breakfast as there are no Heritage Park staff up that early to accept our gift. We warm up, fill our bellies with eggs and toast and return to the park where we are greeted by "Important People". They graciously accept our gift. The Little Synagogue is driven into the park grounds and placed on its foundation.
Another long winter, the begging for money is endless, the interior is restored, the benches are made, the bimah is built, the mezuzahs are carved to look like they are worm-eaten. Very apropos for a rural synagogue. As all of this is happening, the grand opening celebration is being organized. There is no time to go grocery shopping, there is no time to trap the dust bunnies hopping all over my floors. There is hardly time to work to earn a living to pay my bills. There is no time for anything other than the grand opening, the synagogue, work, the grand opening, the synagogue, and what should I wear? And what shall I say in my speech at the opening?
We'll get a thousand people at the opening, I tell my board and opening committee. They tell me I'm crazy. 600, 800 max. No, we'll get 1,000, I argue with them.
The speech gets written and rewritten, over three months. The dress is bought. I'm lent a choker festoon necklace, a vintage looking handbag. I cave and buy a $400 hat. There are people all around working hard, doing this and that, and on the Thursday before the grand opening everything stops. I can hear the silence. I have nothing to do that weekend except show up at the grand opening celebration on Sunday, June 28, 2009. We eat burgers at a park the night before. The air has the sweet smell of flowers, the sun blushes its pretty face on us like from a scene out of Akira Kurosawa's "Dreams."
The day of the grand opening arrives. My mother dresses me as if I am a princess, lunch at Heritage Park, and the crowds start coming, and coming, 2,000 people appear, and more. Our most generous donors take turns carrying the Torah, regally crowned by a chuppah and the joyful people follow behind. They sing and clap and have tears in their eyes. Very Important People give speeches. My voice cracks, again, when I give my speech. My soul knows something my head does not.
The greatest joy in life, I think, comes from dreaming. Then doing.
Founding president of The Little Synagogue on the Prairie Project Society, Irena Karshenbaum will give a talk about this special project for the Jewish Heritage Centre of Western Canada on Sunday, May 30, 2021 at 2:00 pm CDT. Click here to register: https://www.jhcwc.org/programs/ 
Irena Karshenbaum writes in Calgary. She can be reached at irenakarshenbaum.com.