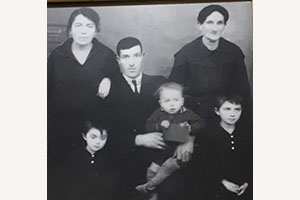 The following article was posted by former Winnipegger Brenda Honigman on Facebook on January 27, International Holocaust Remembrance Day.
There are countless stories written either by Holocaust survivors or their descendants, but we chose to republish this story – partly because the late Sam Honigman was so well known, also because his tale of survival is so typical – and so extraordinarily harrowing, that it brings home in a more personal way the incredible experiences that so many individuals went through during the most horrible period in human history.
We must never forget about this tragedy. In the picture my dad is the baby. My dad lost his entire immediate family- his parents, siblings and grandparents as well as his aunts, uncles and cousins. They were all slaughtered in the killing fields. My dad being a fast runner ran away and hid in a ditch as they were marching to the killing fields. My dad's aunt saw that he was about to run and she handed him her wedding band which he later gave to a guard as a bribe. He survived in the forest and eventually he was hidden with 3 other kids in a hole that a farmer dug out for them next to his barn. The farmer gave them food by lowering a string down to them. It was a miracle that he survived.
At the age of 12 my dad witnessed his sister being raped and his zaide's beard and payes being slashed. My dad was shot at. He hid in hay stacks, took food meant for farm animals and occasionally ate a piece of bread over the course of a day. Even though he lost his family and felt so much pain, he still felt the need to return to his shtetl years later.
In 1992 my dad, myself and my brother went to my dad's shetl, Mizerich, that was in Poland (now The Ukraine). We were part of a group of 20 survivors and their families who attended a memorial service. About 2,000 local people attended the service. They came by bicycle, horse and buggy, car and by foot. The service began with a "march of the living" walk along the same route that my dad took 50 years ago on the "march of death" walk to the killing fields. The ceremony was very emotional. I held the Israeli flag with some other children of survivors. There were speeches in Ukrainian, Hebrew and Yiddish.
During our trip my dad showed us the hole below the barn where he was hidden with 3 other children for 1 1/2 years. One of the other hidden kids was also on our trip. We also saw my dad's old home. My dad didn't remember exactly where he lived but he remembered the area. We saw a woman in her 90s and he asked for directions. She blurted out my dad's mother's name. She knew my dad's mother and father and brought us to the house. Outside the house people ran up to my dad and called out "Shmeelik" – my dad's nickname. His Hebrew name was Shmuel. They were his neighbors and remembered playing with him as children. They were so happy to see my dad alive. During the ceremony they brought my dad flowers.
After our very emotional trip to see my dad's shetl, we went to Israel and we reunited with the other children who were hidden in that hole. Our "march of the living trip" was an incredible trip that I will never forget. An article about our trip was written in a Jewish newspaper and we were interviewed on a local Jewish tv show. I told my kids about this experience and I am teaching them that they also have a responsibility to share our family's experiences during the Holocaust. We must never forget.