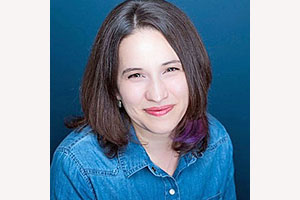 By MYRON LOVE
Sidura Ludwig's second book, a collection of short stories titled "You Are Not What We Expected", has been years in the making. While the new volume will be out in May, the subject of Ludwig's Limmud presentation – at the Asper Campus on March 1 – will reflect her current focus on children's books rather than her new publication.
The Winnipeg-born writer's Limmud presentation will be focusing on the need for more diversity in the portrayal of Jewish grandparents in today's children's picture books. The daughter of Israel and Maylene Ludwig is currently working on a Masters Degree in Fine Arts specializing in writing books for children and young adults at the Vermont College of Fine Arts.
"I have noticed in my studies that the ways Jewish grandparents are depicted in children's books are not reflective of grandparents today," she observes. "The grandparents in these books are the images of the eastern European babas and zaidas that I knew growing up. The greater diversity in our Jewish communities is not reflected in children's books. That is the basis for the thesis I am working on for my MFA."
She reports that she gave the same presentation at Limmud in Toronto as she is giving here and that she was very well received.
Ludwig notes that she has been writing seriously since she was a teenager. She left Winnipeg originally in 1994 to study at York University. After graduation, she was back here for a year working as a teacher's assistant, then went back east to study journalism at Carleton. In between, she married and she and her husband moved around for a time before settling in Thornhill in 2004.
Her first novel, "Holding My Breath", was published in 2007. She has worked as a journalist and in communications largely on a freelance basis.
There was also a growing family to look after.
"I found as a young mother than I didn't have a lot of time to read novels," she recalls. "I gravitated to short stories – which was always my first love. I really appreciate the ability of writers to tell larger stories in a few pages."
Eventually Ludwig enrolled in some writing courses through the Sarah Selecky Writing School and Humber College which focused on writing short stories. "I gave myself a goal last year of trying to send out five submissions a week," she says, "and, after a year, had nine short stories published – along with a lot of rejections. "I was sending off five submissions a week, fully expecting a lot of rejections. I had enough stories published in different media that I knew that there was some interest in the stories that I was writing. So I submitted a collection of my short stories to a publisher and, last April, received a positive response."
The official publication date, she reports, is May 5, with a launch to follow in Toronto. She is looking forward to a Winnipeg launch a little later, hopefully at McNally Robinson where she had her first job.
Tickets for Limmud Winnipeg for the weekend – Saturday evening and Sunday – are $60 (plus tax) if you sign up before February 16, $30 if you are only coming one of the days. There are reduced rates for university students ($18), high school students ($10) and children ($5).
Also, for the first time this year, Limmud Winnipeg is able to issue its own charitable receipts.
For further information, contact Florencia at 204.557.6260 | limmudwinnipeg.org.