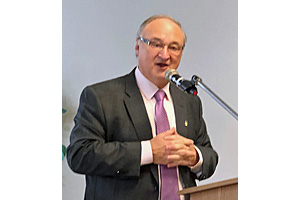 By BERNIE BELLAN In formulating ideas for writing this particular article I spent a considerable amount of time reading materials pertaining to Christian Zionism. I admit that I am still more than a little confused when I hear devout Christians refer to their belief in "Hashem," using the same term as one would expect to hear from someone who is Jewish.
Yet, as I read more about the long history of Christian Zionism and its various permutations I can more easily understand how someone can claim to be both a devout Christian and an ardent Zionist. 
But, when you hear someone like Pastor Rudy Fidel expound upon his love for Israel, as he did to at a recent meeting of the Remis Lecture Group at the Gwen Secter Centre on October 20th, well – trying to understand Fidel's religious orientation is no easy task.
Fidel's love for Israel is obvious; as of the time of writing he has been to Israel 23 times, beginning in 1986. As pastor of Faith Temple for the past 40 years he has been consistent and steadfast not only in promoting support for Israel, his devotion has led to others in his church contributing hundreds of thousands of dollars to Israel.
During his talk at the Gwen Secter Centre Fidel referred to one particular couple that belongs to Faith Temple (although without divulging their names) who have purchased an astounding five ambulances for Magen David Adom, on top of which they have contributed $100,000 for Holocaust survivors.
But, when it comes to explaining what has led Fidel to harbour such a deep love for Israel and a general affinity for Jews, well, it's not easy obtaining an answer from him for that.
In material found on the Christian Friends of Israel website, it's noted that Fidel was mentored by Dr. Ingrid Bergner when she was Fidel's predecessor as pastor of Faith Temple. According to the website, "Dr. Bergner visited Israel in 1967, just two weeks before the Six Day War and returned seared with a passion for this holy land…It was Bergner who mentored  Rudy through his long years at Faith Temple…But he not only undertook the leadership of the church – he undertook the mantle of leading groups to Israel."
The Six Day War, it has been observed, was not only pivotal in awakening a much closer interest and affection for Israel among many Jews, it also led to much stronger support among many branches of Protestant Christianity. For many Evangelical Christians, Israel's lighting victory in that war was a sign that the fulfillment of the prophecy of the coming of the Messiah was at hand.
Rudy Fidel, however, simply dispenses with any talk of the return of the Messiah. Something he said to his audience at Gwen Secter when he spoke – and which I'm sure came as quite the surprise to almost everyone who was there, is that there is not a single cross on display at Faith Temple.
For that matter, if you had walked into the room not knowing that Fidel is a Christian pastor, there is almost nothing in what he said that would have made you think he is anything but Jewish.
"The only agenda I have is to love Israel," he said. "I love Judaism."
In 1983, Fidel said, "when I made a personal commitment to God, I went to a travel agent and got a bunch of brochures about Israel." As was noted, that was the start not only of Fidel going to Israel as the leader of many different tour groups, it also led to him bringing other Christian pastors to Israel so that they, too, would be encouraged to bring their parishioners to Israel.
Fidel referred in particular to the example of Reverend Raymond Maclean, a Native pastor who has been to Israel an incredible 32 times.
Continuing in the vein of his admiration of the Jewish people, Fidel went on to say that his "favourite character in the Bible is Jacob. I see him in Larry Vickar, in Earl Barish, and in Alan Yusim (who was a former director of B'nai Brith Midwest Region in Winnipeg)."
It was Alan Yusim who asked Fidel to participate in B'nai Brith's annual Holocaust week event, "Unto Every Person There is a Name," when various individuals are invited to read out loud the names of individuals who perished in the Holocaust at a ceremony held at the Manitoba Legislature.
Fidel said he was deeply touched by that invitation, which came in 2003. He observed that the night before the ceremony, when he was practicing reading the names of those Holocaust victims so that he would not stumble over their pronunciation, he had what he described as an "epiphany."
Developing close relationships with Jewish organizations and leaders of those organizations, such as Alan Yuism, has been key to what Rudy Fidel has strived to accomplish, he explained. He spoke particularly fondly of the friendship he and his wife, Gina, have maintained over the years with Larry and Tove Vickar, noting that friendship originated way back when a young Tove Vickar, recently arrived here from Israel, was studying English for the first time and Gina was her teacher.
Fidel observed that Larry Vickar has been generous in his support for a multitude of causes, going so far as helping "to build homes in the Philippines. He puts his heart into everything he does," Fidel said.
So, if the Six Day War was a pivotal event for Dr. Ingrid Bergner who, in turn, imbued Rudy Fidel with an ongoing devotion to Israel, it was his later encounters with Holocaust survivors that led to another facet of his love for Jews.
In 2005, Fidel said, he was part of a March of the Living tour to Poland and Israel. When he was at Auschwitz he met a survivor by the name of Felix Opatowski, who had been an inmate in Auschwitz. Opatowski was actually a part of the group that planned on blowing up one of the crematoria at Auschwitz (until the SS learned of the plot) and, even though he was severely tortured (with all his fingernails pulled out, along with the loss of an eye and hearing in one ear), he managed to survive.
According to Fidel, Opatowski said that  the "ground at Auschwitz is as holy as Eretz Yisrael ," which didn't go over well with Israeli authorities. But meeting Opatowski was another life-changing moment for Fidel, he explained, and one that led him on a path devoted to helping Holocaust survivors. He noted that there are still 150,000 Holocaust survivors alive in the world today and, working with an organization known as "Emunah," which is devoted to helping survivors, Fidel has raised over $20,000 for the cause.
Not only has Fidel played a significant role in helping Holocaust survivors, he's also long been active in helping Jews in Ukraine and in Cuba. (He noted that he's been to Cuba eight different times, where he's helped to forge ties with the Cuban Jewish community.)
But, after he concluded his talk, Fidel was challenged  by audience members with some questions that elicited some evasive answers which might lead one to wonder just what motivates Rudy Fidel's deep love for Jews.
One question that seemed to catch him off guard was: "Where does Jesus Christ come in?"
Fidel begged off answering, saying, "I'd rather not talk about that. Maybe it was my passion 40 years ago, but it isn't any more."
Another audience member, alluding to an observation Fidel had made earlier that over 150 different individuals whose last name was Fidel are recorded at Yad Vashem as having died in the Holocaust, asked whether Fidel had ever taken "a DNA test" to try and determine whether he actually had Jewish ancestry himself.
Fidel answered that he hadn't, but it was certainly an interesting idea.
Finally, someone else asked him "Are all your congregants pro Israel?"
Fidel answered, "Most of them."
Quite the interesting fellow – that Rudy Fidel. It's not the first time we've written about him in an article for this paper, but like many other Christians who harbour a deep love for Israel and Jews in general, we certainly appreciate all that he's done over the years to strengthen ties between Christians and Jews.