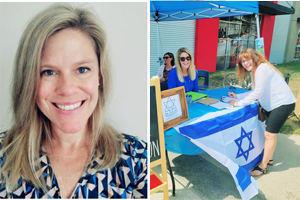 By BERNIE BELLAN Taylor Polstra is a young woman now living in southern Manitoba who originally comes from the southern US.
In 2010 Taylor was working for an organization known as the International Christian Embassy Jerusalem.
As Taylor noted in an article posted to the ICEJ website, "Back in 2010 I was working for ICEJ in Jerusalem as a staff writer. I was headed back to Jerusalem from Haifa after interviewing several Holocaust survivors at the Haifa Home. I was so moved from the days' events and was quietly thinking to myself on the car ride home about how I could do something back in the States to raise funds and awareness to bless Israel. I felt the Lord said to do a golf tournament and call it Covenant Cup. The funny thing is I knew nothing about golf and especially how a tournament works! So I shelved the idea in my heart.
"After marriage, moving to Canada, and 4 kids later, Covenant Cup Golf Tournament finally happened this past August. With the recent barrage of rocket attacks in May, my heart was stirring. A local pastor randomly asked me if I had an idea for a project to bless Israel and in that moment I knew that NOW was the time to organize Covenant Cup Golf Tournament. After praying and many confirmations, I stepped out of my comfort zone in faith and called the golf course to set the tournament date! The miracles started happening!
"Covenant Cup Golf Tournament helped open doors in the Pembina Valley to share about what is going in Israel today and why it's important for us to stand with the people of Israel. We ended up getting close to 50 corporate sponsors, 72 golfers and also personal donations that helped us raise over $44,000; enough to buy a large bomb shelter and even help payment towards another one."
This past August I happened to hear of the plans to hold a golf tournament in Winkler whose purpose was to raise funds for a bomb shelter in Israel, so I got in touch with Taylor. Subsequently I wrote an article about the impending golf tournament.
I didn't hear anything further from Taylor until I was told by someone who was also involved with the golf tournament that it had proven very successful, so I contacted Taylor again to find out how it all ended up.
Taylor told me that the goal of raising $50,000 toward the construction of a bomb shelter in northern Israel in a place called Maalot Tarshiha had been achieved – and actually surpassed, with over $51,000 raised ultimately.
I was curious though to learn how the specific location of the bomb shelter had been chosen. Taylor informed me that, also when she was in Israel, she had met a rabbi by the name of Shmuel Bowman who himself is from Toronto. Rabbi Bowman happens to be a cousin of the Lazar family in Winnipeg, including Michael, Cindy, and Matthew.
Rabbi Bowman is also the Israeli director of an organization known as "Matsil Chayim" in Israel or "Operation Lifeshield" (in the US). (On page 12 you can find out more about Operation Lifeshield.) In any event, it was Rabbi Bowman, working in conjunction with Israeli administrators who decided upon the location for the bomb shelter.
Another interesting aspect to the entire story is that one of the directors of the Canadian arm of "Matsil Chayim" is Dr. Matthew Lazar (whose wife, Nola, happens to be the President of the Manitoba-Saskatchewan division of the Jewish National Fund.) When I spoke with Matthew he explained to me that "Matsil Chayim" is known as "Life Initiatives" in Canada. The reason for all the different names has to do with different tax statuses in each respective country – much the way the Jewish National Fund is known as Keren Kayemet Israel in Israel.
In any event it's nice to be able to write something positive about a group in the Pembina Valley of Manitoba. Let's face it: Southern Manitoba hasn't actually been enjoying a lot of positive press these days.