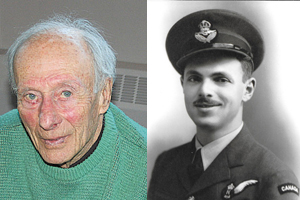 By MYRON LOVE With Remembrance Day just a couple of weeks away, it would seem to be appropriate to pause once again and remember the sacrifices that our parents, grandparents, uncles and aunt made in those dark days of World War II to fight the scourge of Nazism – historically the greatest modern threat to the existence of the Jewish People.
As historian Ellin Bessner noted in her book, "Double Threat – Canadian Jews, the Military and World War II", "nearly 17,000 Jewish Canadians enlisted in every branch of the service and the merchant marine. They fought and died in many major battles of the war, including at Hong Kong, Dieppe, the Battle of Britain, the Battle of the Atlantic, North Africa, Ortona, D-Day, Falaise, the Scheldt, throughout Northwest Europe, and in the Pacific.
"Over 190 received military honours for bravery. Nearly 450 did not come home, " writes Bessner in her book.
Among those Jewish Winnipeggers who were wartime heroes were Max Sucharov, Lloyd Friedman and Louis Greenburgh.  Both Friedman and Greenburgh were originally from Saskatchewan, but made their homes in our community postwar.
Greenburgh had actually gone to England just before the war with the dream of becoming a pilot, He originally enlisted in the RAF as a ground crewman, earned his wings in September 1942, piloted 31 bombing missions and twice received the Distinguished Flying Cross (DFC). He continued to serve in the RAF in different capacities (including playing a role in the Berlin Airlift) and, in the late 1950s, with the Royal Canadian Air Force (RCAF) Reserve Squadron No. 2402, was a Procedures Instructor for a couple of years.
Lloyd Friedman joined the Royal Canadian Air Force in 1940 at the age of 22. He trained in Brandon and became a pilot and flight instructor. In 1943, he was deployed to England and flew in Squadron 405, comprised primarily of Canadians. He flew 58 missions. He was also awarded the Distinguished Flying Cross (DFC).The following is taken from an article Bernie Bellan wrote about Lloyd Friedman shortly before his death in 2018:
"But then, Andy (Loyd's son, as Andrew Friedman told me he preferred to be called) added something that was totally unexpected when he said that his father had been a World War II bomber pilot for the RCAF – flying Lancaster bombers, and had flown an incredible 40 missions over Germany and France on two separate tours of duty.
"Now, to understand how amazing that was, you have to realize that the attrition rate among crew members on those bombers approached 90% over an entire tour of duty (which would have consisted of 20 missions if one were lucky enough to make it through an entire tour).
"The Lancaster Bomber carried out daring missions during World War Two. It had a crew of seven from the pilot to the gunners. Everyone had to play their part to stay alive.
" 'The Lancaster was one of the most dangerous places to be in the entire war – the life expectancy of a new recruit was just two weeks…Flying in a British bomber during World War Two was one of the most dangerous jobs of all. Some 55,000 aircrew died in raids over Europe.'
"I was told that Lloyd was born in Southey, Saskatchewan. Prior to the war, he had been a school teacher in Saskatchewan. Lloyd joined the RCAF even before World War II broke out. Trained as a pilot himself, for the first years of the war he trained other pilots at Shilo.
"In 1943 Lloyd went overseas to England, where he began serving on Lancasters. Andy said that the main base where he served was in York. There were seven men assigned to a Lancaster flight crew. Amazingly all seven of Lloyd's crew (all Canadians) survived the war, Andy noted. They would often get together for reunions, but now there is no one else left from that crew."
 Post war, Freedman pursued a lengthy career as a teacher, including three decades teaching at St. John's High School. A man of few words, Freedman rarely spoke about his wartime achievements. He passed away just three years ago at the age of 100.
Max Sucharov may not have been awarded a DFC but he was also a hero nonetheless. And unlike Freedman and Greenburgh, he didn't come back.
Max Sucharov was born in 1915 – one of seven children to immigrant parents Harry and Sonia Sucharov. He spent his early years in Transcona, graduating from St. John's Tech (Grade 11) in 1932, and was working as a butcher at Abe Zipursky's grocery store on McGregor when the war broke out. He enlisted in the air force in the spring of 1942. He trained as a navigator.
"All of his nephews and nieces have a photo of Uncle Max," says his niece, Myrna Charach. "The story we were told is that he and his crew were coming back from a mission on December 2, 1944, when the plane's motor froze up over Yvetot, France. Everyone grabbed a parachute but the crew was one parachute short. The radio operator didn't have one. Uncle Max took him out with his parachute. However, while going out the hatch, he hit his head on the door. He was found dead on the ground."
He was buried along with other allied airmen at a military cemetery at Brettville sur Laize. The family received notice in early 1947 from one Mr. Maurice Duquenne letting them know that local Jewish residents had taken upon themselves to look after the graves of Sucharov and a second Jewish airman, Max Samuels.
Myrna Charach notes that her cousin, also named Max Sucharov, did visit the grave site.
Max Sucharov lives on in the memory of his nieces and nephews. He also has a lake in northern Manitoba named after him in his memory, one of almost 50 northern lakes commemorating Manitobans killed in action during wartime.