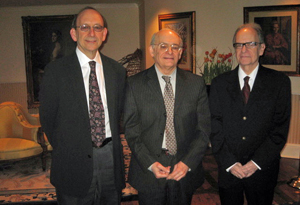 By GERRY POSNER With all of the families in Winnipeg that have produced remarkable children in a variety of ways, surely one family that would rank right up at the top would be the Matas family. In this particular case, I refer to the three sons of Harry and Esther Matas. (The other Matas groups have also achieved much, but I am limited in space to cover all of them). The three sons of Dr. & Mrs. Matas – David, Manny and Robert have all reached some rather lofty levels in their respective fields and in fact, still continue to do so even to this day.
I suppose you would have to be asleep not to be aware of David Matas. It seems that singlehandedly he has taken on the cause of defending human rights around the world and has been a force in the pursuit of justice against former Nazis. His work is truly overwhelming in its depth and scope. In fact, there really is not enough paper to cover all of his accomplishments. Let's start with the fact that in David Matas, you have a Winnipeg-born graduate from the University of Manitoba with a BA, a Master of Arts from Princeton, a Bachelor of Arts (Jurisprudence ) from the University of Oxford, and later a Bachelor of Civil Law. He is also a Barrister of the Middle Temple United Kingdom and, of course, a member of the Manitoba Bar. That was but the beginning for Matas. Matas served as a law clerk to the Chief Justice of Canada (a rather exceptional assignment ), became a special assistant to the Solicitor General of Canada and from there has continued on a path to what might be called achieving justice. He spent some years teaching at McGill as well at the University of Manitoba.
But it has been Matas' work in human rights, his significant involvement in attacking the organ harvesting in China and his work for B'nai Brith in seeking justice for the victims of the Holocaust that has occupied David Matas over more than 30 years. The organizations that Matas has served in his human rights work are numerous and yet all, vital. His reach is extensive in terms of this work wherever there are abuses he uncovers.
In 2006, Matas along with former Winnipegger David Kilgour released the well known Kilgour-Matas report detailing the over 40,000 transplants of organs that had been harvested from members of the Falun Gong in China. In fact, so impressive was their work that both Kilgour and Matas were nominated in 2010 for a Nobel Peace Prize. I am hard pressed to come up with other Winnipeggers who have reached such an illustrious status. Moreover, he has been legal counsel to B'nai Brith for years, has brought to the attention of the Canadian Government and later prosecuted former Nazis living in Canada. For all of his contributions in so many areas to Canada, he was made a member of the Order of Canada. What I suggest stands out about David Matas is that with all that he has done, it has been done not for fame, not for money, and not for power, but just for the sake of bettering the world.
David went into law, but his brother Manuel went into medicine. Manny received his M.D. from the University of Manitoba and later a diploma in Psychiatry from McGill University. He became a clinical psychiatrist whose career spanned 42 years prior to his retirement. For most of his career, he worked in university teaching hospitals in Toronto and Winnipeg. He also worked for the Scarborough Board of Education. He was Medical Director of Adult Outpatient Psychiatry at the St. Boniface General Hospital for many years, as well as acting head of the Department of Psychiatry at the same hospital for several years. His subspecialty was ADHD. Manny was Associate Professor in the Department of Psychiatry in the Faculty of Medicine at the University of Manitoba. He published many articles in peer-reviewed psychiatric journals and was a frequent presenter at national psychiatric conferences. After working at the St. Boniface Hospital for 20 years, he went into private practice with an office in the Medical Arts Building.
And, not to be forgotten, try this out" His book, "The Borders of Normal: A Clinical Psychiatrist De- Stigmatizes Paranormal Phenomena" was a #1 Amazon Best Seller in two categories: Parapsychology and Unexplained Mysteries. It was also a Whistler Independent Book Awards Finalist. This book, which received rave reviews, delves into many different aspects of the paranormal including dreams that come true, telepathy, ESP, visions, premonitions and near death experiences. Matas drew on his experience as a psychiatrist to examine the paranormal phenomena which, he claims, are in fact normal aspects of being human. Aside from all of that, Manny is a photographer, portrait artist and public speaker, father and grandfather.
Try growing up as the third brother with all of that around you. Robert Matas did just that and chartered his own course. Following receipt of an Honours degree from the University of Manitoba in Philosophy and a year spent at the Hebrew University in Jerusalem, Robert spent some eight years with the now defunct Winnipeg Tribune, both as a city hall reporter and later a provincial affairs reporter.
From 1980 through 2012, Matas became very well known for his work with the Globe and Mail in Toronto from 1980-88 and later in Vancouver from 1988-2012. Believe it or not, he had more than 5, 000 bylined articles in that paper over his career. During his time with the Globe, he served as the BC Bureau Chief, Western Canadian Desk Editor, National Correspondent, columnist, investigative reporter, feature writer and political reporter. Matas also provided commentary for radio stations in both Canada and the US. He also contributed to a book about government surveillance. In short, Matas was a serious journalist who covered local, provincial and national issues. Since retiring from the Globe in 2012, Robert has involved himself as a commissioner on the Vancouver City Planning Commission, also as a member of the City of Vancouver Independent Election Task Force. He has even co-edited a 50-page booklet on UBC's 100 -year relationship with China. That might be something the Trudeau government might want to look at these days.
There they were in the 1950s – three Jewish boys growing up on Waterloo Street, just south of Corydon. Harry and Esther Matas may have had a glimmer of the future that lay ahead for their sons, but I believe they would be more than amazed at the heights the trio has achieved. The nachas is well deserved and, although Harry and Esther are not around to see this success, those of us that have any connection to any of the Matas brothers or even for those that do not, we can surely share the joy.
And, in fact, if you were to read the Matas family history which you can find online by Googling "Matas Family Winnipeg", you would find a lengthy story about the extended Matas family, including grandparents Simon and Anna Matas and Max and Rose Steiman.
Their grandsons have done them proud. Best of all, the boys are very connected to one another and feel part of a large family network that includes children, grandchildren, nieces, nephews and now great -nieces and great-nephews, along with many close cousins.