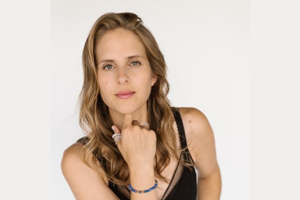 We received a note from someone by the name of Haley Turner, who has a  Winnipeg connection and wanted to let us know that she's written a new song for Chanukah.
Read on to read what Haley wrote us (and click on the links to listen both to her Hanukkah song and the original version of the famous Adam Sandler Hanukkah Song – which inspired her to write her own Hanukkah song):
As promised I am sending you the news about the Chanukah song I released today! Inspired by Adam Sandler but nothing like his original Hanukkah Song (which he's updated several times – all of which can be seen on Youtube), my song Intangible Things (A Hanukkah Song) is quite possibly the only original Hanukkah song set for release this year, and one of very few in the last 25 years.
Adam's Chanukah song along with Happy Gilmore was released over two and a half decades ago. Last year I watched an interview on Ellen where Adam asked for "someone out there to write a new one." and I was inspired to do so.
I believe art has a way of bringing people together by providing opportunities to understand one another through storytelling. As a fiercely independent songwriter and Jewish mother of two, I always write with intention. A desire to create something that brings people together or inspires people to make the world better. A little Tikkun Olam I guess.
During a year that has seen a rise in Anti-Semitism and all forms of hate it would be incredible to have Intangible Things (A Hanukkah Song) shared as widely as possible and the opportuitiy to have an article featured in The Jewish Post and News would be truly meaningful.
All serious things aside, I figured the person who inspired the song should know about it so in an attempt to garner support from Sandler I released a Happy Gilmore Parody video where I wrestle an alligator and a parody version of the song. I will be sharing a tutorial on "How to get in touch with Adam Sandler in the coming weeks.
As an indie artist, I would be truly grateful for your support. Intangible Things offers a song for those who celebrate the holiday of lights but one that also speaks to the most basic experiences of all humans this holiday season, the reminder that the beauty around us is often found in the intangible things.
On a personal note, my parents grew up in Winnipeg, my Mom's maiden name is Gladstone.