Rube Helman: Last of the Jewish travelling salesmen?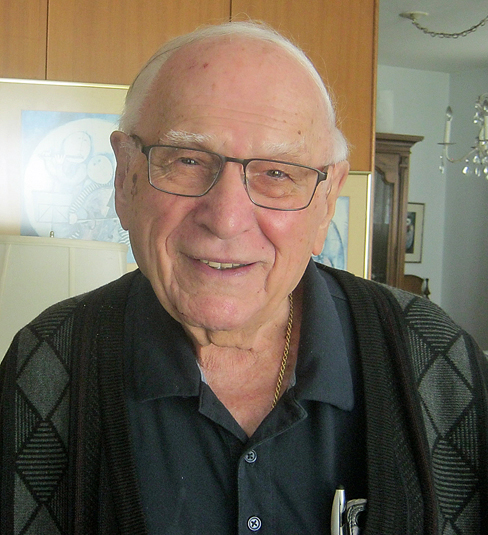 By MYRON LOVE At the age of 91, Rube Helman remains one of the last of a dying breed: a travelling salesman. It was only two years ago that the long time Garden City resident closed his office at the Marlborough Hotel.
In the middle years of the last century there were a number of occupations that could be considered Jewish niches. In that era, you could find a Jewish-owned grocery store in virtually every neighbourhood in Winnipeg – often with the family living behind the store. And every town or smaller city on the Prairies would have had one or more Jewish-owned and operated general stores/clothing stores.
In Winnipeg – and across Canada – the garment industry was dominated by Jewish entrepreneurs who hired many Jewish immigrants to work for them – and the upholsterers were largely Jewish. So it stands to reason that many of the middlemen connecting Jewish businessmen throughout the region with suppliers would also be Jewish.
"I always liked people and liked to talk to people so I was a natural," Helman says of his lengthy career in sales.
The proud Winnipegger's life has mirrored much of the historical Jewish experience in our city. He was born in the early years of the Depression to Polish Jewish immigrants, Abe and Sarah, and grew up on Flora and Powers – the heart of the Jewish North End. While he didn't attend Jewish school, he received his Jewish learning directly from the esteemed Rabbi Brickman – who was also a shoichet on Flora Avenue.
After graduating from Grade 11 – the last year of high school for most in that era – at St. John's, Helman recalls his mother urging him to get a job – rathet than trying university – to help support the family. His first job was working for Sid Weidman, who had a restaurant supply business.
After a short time, Helman left Weidman and went to work at the Winnipeg Film Exchange. The Film Echange was the clearing house for all movies that were shown in local theatres through Manitoba, Saskatchewan and Northwestern Ontario. And, just as Hollywood and the movie industry in general was dominated by Jewish studio owners, writers, producers and directors, so too were the Winnipeg Film Exchange and local movie theatres – largely led by members of the Jewish community.
"I started at Warner Brothers," Helman recalls. "After a short time, I learned about an opening at RKO and was hired by Meyer Nakinson. He later moved to J. Arthur Rank Studios where he worked for a Mr. Geller.
"It was a good experience working in the industry," he says. "I eventually became an office manager."
However, all good things come to an end and, by the early 1960s, the golden era of movies was coming to an end. "The growth of television hit the movie business hard," Helman recalls. "My wife (Rita) began urging me to change direction."
That new direction turned out to be the beginning of a life as a travelling salesman. Helman's product line initially was Elgin watches. "I got a call from a guy in Toronto by the name of Roy Frankel," he recalls. "He was looking for someone to be the Elgin Watch representative in Western Canada. I started on a commission basis. My territory ranged from Thunder Bay to Victoria."
After 15 years with Elgin, he was approached by the president of Longine to sell that company's brand of watch. "I was flown to Montreal," he recounts. "I stayed with Elgin until a replacement could be found. I sold Longine watches for another 35 years."
Along the way, Helman also added rings and gold to his sales offerings. He tells a funny story about how he came to deal in gold. "I had a heart attack when I was 39," he says. "While I was recovering in hospital, I got a call from a guy named Louis Brumer, who offered to put me in touch with a fellow in Montreal who was in the gold business. After I was out of hospital, I met the guy from Montreal. We agreed with a handshake that I would be his representative in Western Canada and he also gave me some working capital to get started."
He says that he continued to deal in gold until the prices "started to go crazy. I had to listen every day to the radio to find out what the price of gold was from day to day."
Now, as a travelling salesman, Rube Helman wasn't at home much. "After my heart attack, we bought a cottage at Winnipeg Beach," he recalls. "The idea was that I would slow down a bit, relax more."
That didn't happen. While Rita and the kids (Carla, Mark and Elaine) enjoyed their summers at the beach, Rube, naturally, would be on the road a lot of the time. The lifelong Chevra Mishnayes member did make a point though of almost always being home for Yom Tov.
The impetus for Helman to retire – at the age of 89 – was a notice slipped under his office door by the Marlborough Hotel's owner that he had sold the building and Rube would have to relocate.
"Rita and I felt that the time had come to close the business," he says. "It never really felt like a job."
Although Rube Helman may be officially retired, he notes that he is still available to help out friends and relatives with repairs.
"I know a lot of people," he says.
Decision to invite former member of Nazi-aligned Ukrainian military unit to House of Commons raises questions about why he was allowed into Canada in the first place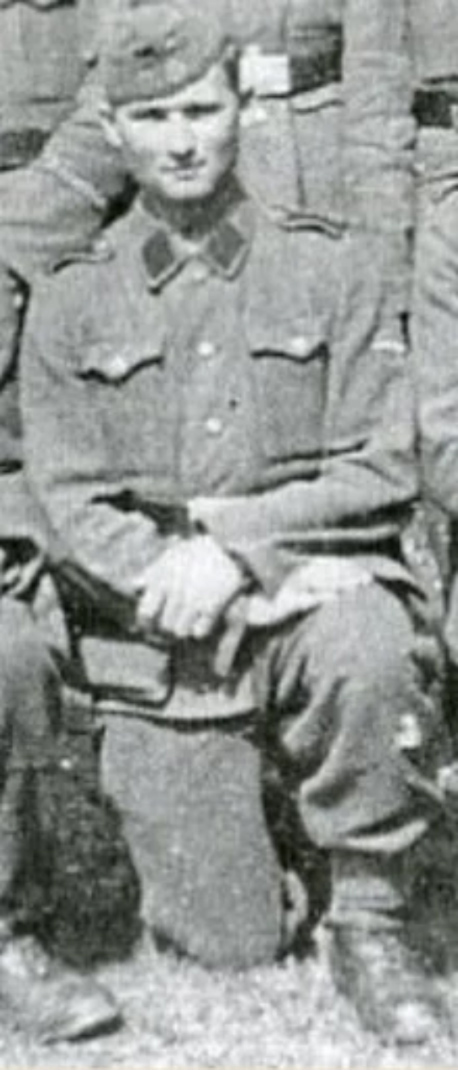 By BERNIE BELLAN (Originally published Sept. 25 in The Jewish Post & News)
The storm that erupted over the revelation that a former member of a Ukrainian unit that fought with the Nazis during the Second World War was invited to attend the appearance by Ukrainian President Volodymyr Zelensky when he spoke to the House of Commons on Friday, September 22, has led to a whole series of questions:
Who is Yaroslav Hunka, the 98-year-old Ukrainian-Canadian who received a standing ovation from members of all four parties in the House of Commons on Friday, September 22, when he was introduced by House of Commons Speaker Anthony Rota prior to Ukrainian President Volodymyr Zelensky's speech in the House of Commons?
What was the Wafen-SS Galicia Division (also known as the SS 14th Wafer Division)?
How is it that many former members of the Wafen-SS Galicia Division were allowed entry into Canada following World War II?
Why was there no vetting of Hunka by anyone prior to his having been invited to attend the House of Commons on September 22?
The fierce reaction from various Jewish Canadian groups, including the Friends of Simon Wiesenthal Centre for Holocaust Studies, B'nai Brith Canada, and the Centre for Israel and Jewish Affairs, was unrelentingly critical of the decision to invite Hunka to attend Zelensky's appearance in the House of Commons.
Hunka's past participation in the Wafen-SS Galicia Division was well known. As an article that appeared on Wikipedia on September 24 noted: "Yaroslav Hunka (Ukrainian: Ярослав Гунька; born c. 1925) is a veteran of the 14th Waffen Grenadier Division of the SS (1st Galician), a Nazi Germany military formation. Hunka was born in Urman, then in Poland, and volunteered for SS Galizien in 1943. He emigrated to Canada after the conclusion of World War II. In 2023, Hunka made international headlines after he received a standing ovation from the House of Commons of Canada, and was recognized by Canadian prime minister Justin Trudeau and Ukrainian president Volodymyr Zelenskyy. Later, it was revealed Hunka was affiliated with Nazis, and Canadian government officials apologized to the worldwide Jewish community. Hunka is retired and lives in North Bay, Ontario.
Biography
"Yaroslav Hunka was born in
"Yaroslav Hunka was born in Urman, Second Polish Republic (now Ukraine) c. 1925. In 1944, Hunka was deployed into combat against Red Army forces on the Eastern Front of World War II. Following the conclusion of World War II in Europe, Hunka immigrated to Canada and joined the Ukrainian-Canadian community.] As of 2022, Hunka lived in North Bay, Ontario, and travelled to Greater Sudbury to protest against that year's Russian invasion of Ukraine."
The question why so many former members of a Ukrainian military unit that fought for the Nazis were allowed into Canada following WWII is laced with controversy. A website that is very sympathetic to Russia lists a number of very serious allegations about Canadian complicity in allowing those individuals into the country:
"In the immediate postwar period, Canada's then Liberal government, working in close cahoots with US and British intelligence, opened Canada's doors to Ukrainian Nazi collaborators. These included members of the infamous 14th Grenadier Division of the Waffen SS, also known as the Galicia Division.
"The scale of the influx of Nazi collaborators only became public knowledge in the 1980s. A comprehensive study carried out by Alti Rodal on behalf of the federal government-appointed Deschênes Commission of Inquiry on War Criminals in Canada uncovered records proving that US intelligence agents in Europe had funneled Nazi collaborators from Eastern Europe through the Canadian immigration system using false papers. Rodal revealed that large numbers of identically typed applications were received by Canada's immigration department from one address in West Germany. On closer inspection, this address turned out to be a US military base.
"The Progressive Conservative government of Brian Mulroney established the Deschênes Commission in 1985, in response to a mounting public outcry over exposures of Nazis and Nazi accomplices who had found a safe haven in Canada and tasked the inquiry with identifying Nazi war criminals residing in Canada.
"Around the same time, the Simon Wiesenthal Center estimated that upwards of 2,000 Nazis and Nazi collaborators emigrated to Canada in the years after the war. A quarter-century later, in 2011, it would give Canada an "F minus" in its annual report ranking countries on their efforts to prosecute war criminals. This placed Canada on a par with Ukraine and the former Baltic republics, i.e. countries where the right-wing, nationalist regimes that have emerged since the Stalinist bureaucracy's dissolution of the Soviet Union openly venerate the ultranationalists who aligned with the Nazis when they invaded the USSR.
"War criminals in Canada
"A significant number of those who made their way to Canada were members of the Nazi SS's Galicia Division, which was made up of Ukrainian nationalist volunteers who fought on the side of the Wehrmacht against the Red Army during the Nazis' war of annihilation against the Soviet Union. This preplanned onslaught—launched in June 1941 when a 3 million-strong force comprised of German troops, their Axis allies and fascist volunteers invaded the Soviet Union—led to the deaths of 27 million Soviet citizens and the Holocaust.
"In waging war, suppressing the population, and pursuing the annihilation of the Jews, across Eastern Europe and above all in the USSR, Hitler's Wehrmacht and SS shock troops relied on the loyal collaboration of ultraright-wing, anti-Semitic forces. Among the Ukrainian nationalists, in both occupied Poland and the USSR, the Nazis found eager collaborators. The Galicia Division was formed in 1943 out of a faction of the Stepan Bandera-led Organisation of Ukrainian Nationalists Bandera (OUN-B) and fought with the Nazis against the Red Army throughout 1944.
"Massacres perpetrated by the division against Polish and Jewish civilians have been well documented, including at Huta Pieniacka, Podkamien, and Palikrowy. At Podkamien, 100 Polish civilians were massacred in a hilltop monastery, and at least a further 500 in surrounding villages as the Red Army approached the German-occupied area in March 1944.
"Members of the Galicia Division were initially prohibited from entering Canada due to their membership in the SS. But in 1950, Britain made an appeal to the Commonwealth for volunteers to accept a total of 9,000 division members who were at that time residing in the UK after being disarmed by British troops at the war's end.
"When Canada's External Affairs Department, prompted by complaints from the Canadian Jewish Congress (CJC), raised concerns about the division's ties to the Nazis and role in Nazi atrocities, the British government insisted that it had carried out background checks. "While in Italy these men were screened by Soviet and British missions and neither then nor subsequently has any evidence been brought to light which would suggest that any of them fought against the Western Allies or engaged in crimes against humanity," claimed the British Foreign Office. "'Their behaviour since they came to this country, added London, 'has been good and they have never indicated in any way that they are infected with any trace of Nazi ideology.'
"With this letter serving as political cover, Prime Minister Louis St. Laurent and his cabinet declared that Galicia Division members would be permitted to immigrate to Canada unless it could be proved that they had personally committed atrocities against civilian populations based on 'race, religion or national origins.' Simply having been a Galicia Division member would not be considered a valid reason to prevent entry, even though after the war all Waffen-SS members had been deemed complicit in war crimes.
"The immigration of Nazi and Nazi-allied war criminals continued for more than a decade after the war and was a significant factor in Canada's emergence during the Cold War as a political-ideological centre of far-right Ukrainian nationalism.
"Speaking to a CBS "60 Minutes" programme in 1997, Canadian historian Irving Abella, who is currently Professor for Canadian Jewish history at York University, bluntly summed up the political climate of the time. 'One way of getting into postwar Canada,' he said 'was by showing the SS tattoo. This proved that you were an anti-Communist.'
"Ottawa carried out this policy in close collaboration with US authorities, who similarly permitted ex-Nazis to settle in the US and recruited hundreds to act as spies against the Soviet Union and the Soviet-allied regimes in Eastern Europe. According to investigative reporter Eric Lichtblau, up to 1,000 former Nazis were made use of by the CIA in Europe, within the US itself, the Middle East, and in Latin America.
Yet, other historians dispute the notion that Canada became a safe haven for Nazi and Nazi-allied war criminals. In a book titled , written by historian Howard Margolian, and reviewed by Urs Obrist in 2002, Obrist writes the following:
"Even though the debate on the admission of Nazi war criminals to Canada after World War II seemed to have reached its apex in the mid-1980s, with the investigation of the Jules Deschênes Commission and its inquiries on war criminals, the issue has continued to stir historical interest in the 1990s and beyond.[1] This recent publication by Howard Margolian, Unauthorized Entry, revises the widely held view that Canada has been a safe haven for Nazi war criminals. Margolian is a Canadian historian with a special interest in the history of World War II and Nazi-occupied Eastern Europe. As the author of Conduct Unbecoming, he has already shed light on the story of the murder of Canadian POWs in Normandy and the trial and fate of the SS-General Kurt Meyer.[2] In Unauthorized Entry, Margolian challenges and refutes accusations stating that the King and St. Laurent governments had been negligent in the admission of Nazi war criminals and collaborators to Canada.
"His study concludes that neither the immigration bureaucracy, nor the immigration lobby in Canada, nor the western intelligence community were as responsible for the influx of about 2000 war criminals and collaborators as has been generally assumed. Instead, he argues, the blame is to be put on the war criminals and collaborators who gained entry to Canada by forged identities or by giving false information about their wartime history. The great majority of Nazi war criminals and collaborators who settled in Canada after the Second World War were admitted not on purpose, but as a result of the absence of, or inaccessibility to, information about their wartime activities. Margolian summarizes that, in view of the benefit drawn from the immigration of the 1.5 million immigrants arriving in Canada between 1945 and 1955, it was worth taking the risk and admitting some 2000 war criminals to Canada."
However, in his review of Margolin's book Obrist notes that the Canadian government made exceptions for three categories of immigrants – who were not denied entry even if they might have had Nazi connections: "German scientists, Estonian refugees from Sweden and former members of the Ukrainian SS-Division 'Galicia'."
As for how the Speaker of the House of Commons could have completely overlooked Hunka's past membership in a Nazi-affiliated unit during WWII, Rota released a statement late Sunday afternoon saying he recognized an individual in the gallery on Friday, and that he has "subsequently become aware of more information which causes me to regret my decision to do so."
"I wish to make clear that no one, including fellow parliamentarians and the Ukraine delegation, was aware of my intention or of my remarks before I delivered them," he wrote.
"I particularly want to extend my deepest apologies to Jewish communities in Canada and around the world."
The statement does not make clear what Rota is apologizing for, and it does not name Hunka or give any details about what information Rota learned about him since Friday.
Memories of Folklorama from a former Miss Judaea (1972): Marla Guberman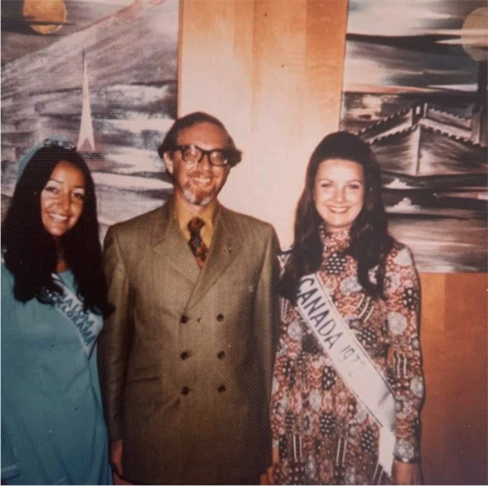 By MARLA BERCHARD (née GUBERMAN)
In August 1972, I was three months shy of my eighteenth birthday when I was selected by a panel to be the female representative of Folklorama's Jewish Pavilion, Shalom Square. Folklorama was still in its infancy, just a few years since its inception, and my official title was "Miss Judaea." It was a time I will always cherish. 
At age 32, a dynamic lady by the name of Gail Stapon co-founded Folklorama. Gail was the "den mother" to all the Folklorama representatives, coordinator of our events, and our etiquette coach. She passed away in 2015, and a tribute to her interesting life is in the Winnipeg Free Press Passages section. Of personal interest, her husband Norm, who just passed this summer, a.k.a. "Stormin' Norman", at one time, played for the Winnipeg Blue Bombers. Here are a few of the highlights of my recollections: 
As "Miss Judaea," I entered a pageant competition, with the winner being crowned "Miss Folklorama." While not really my thing – and even though I did not win the title, I was one of the top three runners up! I'm guessing that was a little bit of an ego boost! 
Each pavilion had its own mayor, and our mayor was a lovely lady, by the name of Freda Fineman. Freda and I, along with each of the other girls and their mayor,s had a "coming out" at Winnipeg's City Hall, where we were introduced by the then-Mayor, Steven Juba. That was the first official kickoff to the events! 
A parade followed, which began at Winnipeg International Airport. Each girl was assigned to a fancy convertible, and as we sat on the back of the folded down roofs, wearing our pavilion costumes, we smiled and waved to the spectators lining the streets who came out to support us, while the parade proceeded all the way down Portage Avenue. I think I mastered the art of "the wave" after that procession! 
Later that evening, the girls had a formal introduction on a stage outside the Centennial Concert Hall.  We each had our own "walk through" where we were asked to introduce ourselves and say a greeting in our country's language.  In consultation with my late Uncle, Zion Bendel, z"l, who at one time was Principal of the Rosh Pina Hebrew School – and my first Hebrew school teacher, we composed my greeting, which I committed to memory.  When my turn came to walk across the stage and recite, I was so nervous I completely forgot what I had memorized, and all I could stammer was "Shalom!"  It was an embarrassing moment! 
The horse races at Assiniboia Downs were next.  We were allowed to invite a plus one. Since I wasn't seeing anyone special at that time, my date was my brother, Brian Guberman. Now, that is a whole other story, sadly, as Brian went missing in 1974, never to be seen again. But he was a charming date, nevertheless, and admiring eyes were upon him at the racetrack. I think we placed and won a small bet that evening! I'm sure there are many Winnipeggers who may fondly remember Brian for his many performances, including playing "Perchik" from "Fiddler on the Roof" at Rainbow Stage, the Hollow Mug and more. I have made a website about him and am still searching for him after all these years, looking for any clues regarding his disappearance.  
  The pageant included the obligatory swimsuit competition, under the guise of a pool party at the Elmwood waterfront property of one of the judges: Bill someone, a local politician, whose last name I do not recall. Most girls dared not get wet, especially their hair, lest it spoil their appearance, but not me! Never one to miss an opportunity for a good swim, I and Miss Russia had a great time getting fully soaked, hair and all! 
Our pavilion, Shalom Square, was at the old YMHA building on Hargrave Street. Although competing for the crown involved the usual components, another important criterion was how well we demonstrated knowledge of our culture and traditions. I was happy to share our customs and foods with the public and visiting dignitaries, including Mayor Steven Juba, and the then reigning Miss Canada, 1972, Donna Sawicky. Both of my parents, Lil and Wally Guberman, (z"l , Dad only, as Mom is still alive and very well at almost 102), were also volunteers at the pavilion. The Chai Dancers performed, as well as others whom I do not recall.  I believe the emcee of the show was Lyle Smordin, who was a well-known local announcer at the time. The girls were given one night off from our hosting duties to visit other pavilions, which was a lot of fun! 
The crowning of Miss Folklorama took place on the main stage at the Centennial Concert Hall at the end of Folklorama's two week run. Miss Latvia took the crown.  Friendships were forged amongst us girls, and post events, coffees and connections lasted for a while.  Miss Korea and I had a special friendship and we stayed in touch.  
I'm not sure exactly when the shift from being a solo female hostess to having male and female ambassadors occurred, as in the years shortly after, I left the city for travels to Israel and other places. I married my sweetheart in 1978, Henry Berchard, son of Holocaust survivors, Sam and Eva Berchard, z"l, and after the birth of our three daughters, we moved to Victoria in 1992.  I regret I have not attended another Folklorama since, although it is on my bucket list! 
I still have the dress and headpiece I designed and wore as my interpretation of an Israeli dress. I tried it on, and fifty-one years later it still fits! The trim was crocheted by my Baba, Annie Rose, (whose story I wrote in the Jewish Foundation's Endowment Book of Life, and which was dramatized by Kayla Gordon and her actors at the Foundation's fiftieth anniversary gala), and which was sewn by my neighbor, Stefania Karpa. 
It was a wonderful experience for me, the memories mostly still as fresh as the day they were lived. Mom supplied me with a few photos from her album, featuring Mayor Juba, Freda Fineman, Lyle Smordin, Miss Canada 1972, and me, too. It's a good diversion to reminisce about the past, to get away from other more serious issues of the day, to think about a time that was sweet, carefree, and a much younger version of myself!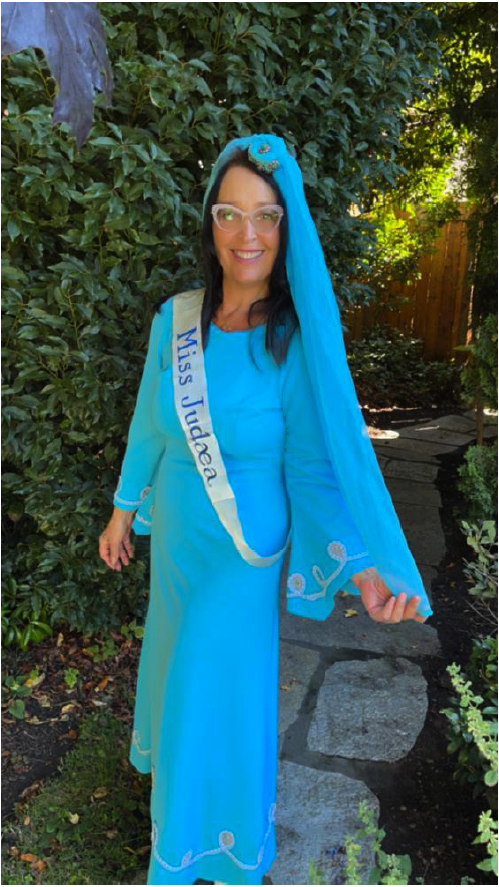 Longtime best friends bring exciting way to celebrate special events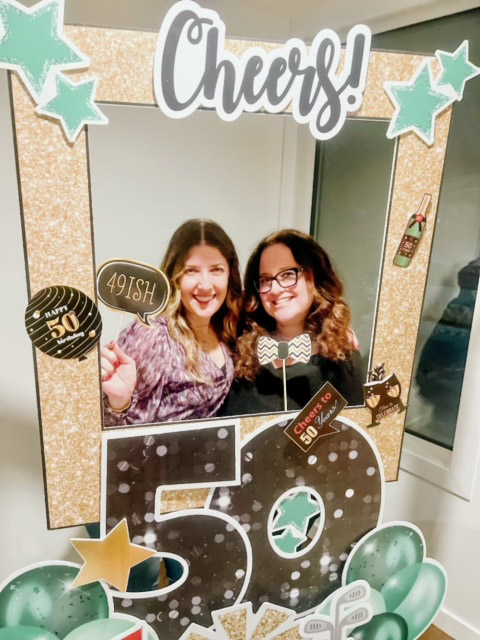 For years, best friends Shannon Golding and Susie Freedman Tapper had talked about going into business together. Almost three years ago, it finally happened.
The impetus behind Bling My Lawn was a combination of the Covid lockdowns and the 16th birthday of Freedman Tapper's daughter, Maddy, in February, 2021.
"My husband, Jason, and I wanted to do something special for Maddy's birthday," Freedman Tapper recalls. "At that time, people were only able to organize drive-by parades and honk. I looked into lawn signs but I didn't see anything out there that I liked."
So the former film production manager went online and discovered that "yard cards" are a big and growing industry in the United States but was still in its infancy in Canada. "I found one or two such businesses listed for Toronto, Vancouver and Calgary – but nothing in Winnipeg," she notes.
Inspired by what she saw online and with a background in graphic design, Freedman Tapper was able to create a unique display to make her daughter's birthday one that she would never forget. Golding shared it on social media and it was a huge hit.
"Susie called me late one night (in December 2020)," Golding recalls. "We were looking for a business that we could start together – a business which we could do from home which would allow us maximum flexibility.
(Golding has two children – Aaron, 10, and Ethan, 6, while Freedman Tapper has two daughters – Emily, who is 16, along with Maddy, now 18.)
A business partnership is a natural evolution for the two friends who, over the past 30-plus years, have shared many life experiences together: high school, university, being roommates in their first apartments in both Winnipeg and London, England, moving to Toronto together and both returning to Winnipeg (although several years apart) to raise their families.
They met in Grade 9 when the daughter of Bob and Shirley Freedman was enrolled at Joseph Wolinsky Collegiate and the daughter of the late Richard and Anne Tramer was attending Jefferson Junior High School in Garden City.
"I was in the Hebrew program at Jefferson," Golding recounts. "Susie and I met through a mutual friend at Joseph Wolinsky."
Golding has spent much of her working career working within the Jewish community. She notes that in Toronto she was the Director of Membership for Holy Blossom Temple for ten years. Before moving to Toronto, she worked in programming at the Rady Centre and when she and her husband, David, moved back here from London (where David is from) in 2012, she continued working for the Rady Centre on special projects.
Freedman Tapper and her husband moved back here 20 years ago. Much of her working career has been in film production both in Toronto and Winnipeg, where she has worked for Frantic Films and Ian Dimerman's Inferno Pictures. She also served for a time with Manitoba Film and Music, promoting our province's film and music industries.
The partners started Bling My Lawn by promoting their new service on social media – Facebook and Instagram – and by word of mouth. "After a few months, we had so many orders that it was hard to keep up," Golding says.
To help out, the partners have been hiring some university students.
Bling My Lawn offers a choice of eye-catching packages consisting of numbers and letters in black, gold and other colours. Golding and Freedman Tapper also provide balloons, cakes, capcakes, stars and hearts in a rainbow of colours and a choice of themes.
While the duo started Bling during the pandemic – thereby restricting their service to outdoor signage, they also now create indoor sign displays for parties and fundraisers – a new division they call "Bling My Bash." The expansion has led Freedman Tapper and Golding to change their business name to simply "Bling," which encompasses both Bling My Lawn and Bling My Bash.
"We do bar and bat mitzvahs, birthdays, weddings, graduations, retirements – any celebratory occasions," Freedman Tapper points out.
Golding adds that the pair have expanded their offerings to include centerpieces for bar/bat mitzvahs and weddings, signing boards, personalized presentation boxes for gifts and cards as well as logo and graphic design.
"Coming up, we are looking forward to doing an amazing bar mitzvah where we will be introducing our new styling service," she adds.
"Bling is here to bring the bling to your celebration," the partners note on their webpage. "Indoor or outdoor displays add that extra sparkle and wow factor to any party, event, drive-by, special occasion or… just because! From birthdays to babies, anniversaries to graduations and everything in between, they've got your bling."