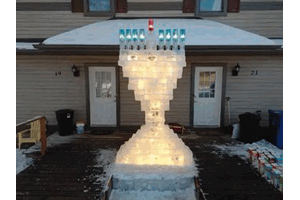 By BERNIE BELLAN
Sioux Lookout is a small community in northwestern Ontario with a population around 5,000. There aren't many Jews in Sioux Lookout, although there are three Jewish doctors there – and a few other doctors who have some Jewish blood, according to Dr. Benji Goldstein, who is a family physician in Sioux Lookout.
So, when Benji, who moved to Sioux Lookout five years ago, began thinking how he could bring an authentic Chanukah experience to what is a pretty remote part of the globe, he hit on the idea of creating an ice Chanukiah, made up entirely of frozen ice blocks in milk cartons. His first Chanukiah was made up of only 70 medical cartons – a puny effort in comparison to this year's gargantuan project, which is made up of 408 blocks of ice.
How did a nice Jewish boy get involved in building unmistakably Jewish ice sculptures in the middle of yehupetz?
"Sioux Lookout may be pretty small," Benji told me, "but it serves as a medical hub for an area that geographically is the size of France."
Benji Goldstein was born in Montreal, but grew up in Israel, which is where his parents still live (along with most of his family). He returned to Montreal though to attend McGill University for his medical degree, following which he and his young family moved to Sioux Lookout.
As a matter of fact the plan this year was for the Goldstein family to move to Israel, but like just about everyone else's plans, that plan was also upended by COVID-19.
And, since he had already received quite a bit of recognition for his previous forays into ice sculpting Chanukiahs, why not try and outdo himself this year? he thought.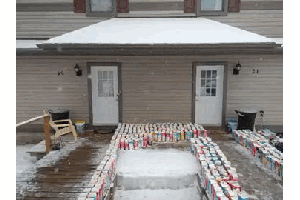 There  would have been some very precise planning involved in building a Chanukiah that actually is taller than the Goldstein house, and for that task, Benji relied on the help of neighbours and many others in Sioux Lookout who were already aware of what had become a signature landmark for their town.
"I used 3.25% milk cartons for the ice blocks," Benji told me. (Apparently those types of cartons are perfect for creating exactly the right size ice block. Go figure.)
"One of my neighbours even switched from drinking 3% milk to 3.25%" in order to be able to contribute to the project. (When I voiced concern about the added fat that his neighbour would have consumed as a result, he summarily dismissed my concerns. I hope he's not setting himself up for a medical malpractice suit.)
You can actually watch a time lapse sequence of photos showing the construction of the Chanukiah on our Facebook page at https://m.facebook.com/TheJewishPost
As for how he lights up the Chanukiah, Benji explained: "It's lit up by LED wires threaded through the structure, with the electrical housing in an ice casing hidden from view."
Now, when Benji's two children, Eitan, age 6, and Ron, age 2 ½, think back years from now on their experience growing up in a remote part of Ontario, they'll be able to recall with pride their father's ingenious way of bringing Chanukah to an entire town.