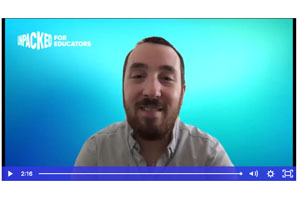 The students, representing 204 institutions across six continents, are answering questions based on Israeli history curriculum. The program was the idea of Gray Academy teacher Avi Posen.
Avi, who is currently living in Israel, still teaches Gray Academy students online while he also works as an educator in Israel. 
Avi explains his role in the contest: I'm the Assistant Director of Education at Unpacked / OpenDor Media so I'm instrumental in creating and facilitating all of our educational programs including the Yom Haatzmaut Global Trivia Challenge. I made the challenge itself and am in contact with educators around the world to encourage schools to register and take part. We have over 12,300 students signed up from over 260 schools from 11 countries around the world. We also got Natan Sharansky, Defense Minister Naftali Bennett, Israeli journalist Sivan Rahav-Meir and the creator of Harvard's most popular course "Positive Psychology" Tal Ben Shachar to participate by asking questions as part of the challenge.
Here's the press release from Unpacked Education which explains how the contest works:
April 27, 2020 — In celebration of Yom Ha'atzmaut, Israel's Independence Day, some 13,400 students representing more than 200 middle schools and high schools from around the world are competing this week in OpenDor Media's Global Trivia Challenge. From April 29 to May 1, the students have the opportunity to participate in an online kahoot quiz with questions based on OpenDor Media's six-part Israeli history video curriculum they've viewed over the previous weeks.


"It's incredible that so many students from all over the world are coming together during this time to celebrate Israel through learning," OpenDor Media CEO Dina Rabhan said. "We're all experiencing such a challenging time and, as an educator, I'm deeply inspired by the enthusiasm with which students from New York to Singapore are approaching our education content."


The Israeli history curriculum is comprised of video classes that bring together archival footage, original text and analyses, and multiple historical narratives to bring a nuanced perspective on Zionism and Israel's founding to the students. The six classes are: The Convoy of 35, Women of Zionism, The Yom Kippur War, What Is Zionism, UN Resolution 181, and Israel's War of Independence. The English-language videos have been translated into 12 languages: Bulgarian, Czech, Danish, Finnish, German, Greek, Hebrew, Hungarian, Italian, Portuguese, Russian, and Spanish. 
The trivia contest scores students based on correct answers and the speed in which they respond. Guest presenters include Israel's Minister of Defense Naftali Bennett, journalist Sivan Rahav-Meir, human rights activist Natan Sharansky, and psychologist Tal Ben-Shahar.
"Sometimes the best teachers of history are the ones who actually help make it," said Noam Weissman, OpenDor Media's SVP of Education. "Our goal is to bring fun and engaging Jewish learning opportunities to students, regardless of their location, language of origin, religious upbringing, or socioeconomic background, and this competition brings us closer to that goal."
The students with the top three scores will be awarded Amazon gift cards. The winners will be announced on Monday, May 4. Additional information can be found at https://unpacked.education/yom-haatzmaut-global-trivia. 
OpenDor Media, formerly Jerusalem U, is a non-profit organization that harnesses the power of media to educate and entertain students and young adults. The organization distributes videos and feature-length films produced in-house to educators through its Unpacked for Educators website that pairs the content with rich educational materials. Earlier this week, the organization streamed its online premier for Sustainable Nation, an award-winning documentary that follows three Israeli innovators who bring water solutions to people all over the world. The film can still be digitally streamed on the Unpacked YouTube channel through Saturday, May 2.
Yom Haatzmaut Global Trivia Challenge