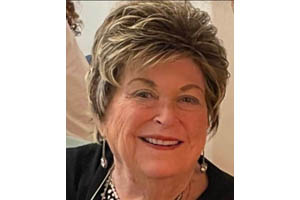 Anita Lee Cohen (née Galpern) passed away surrounded by family and friends on October 9, 2022 at the Grace Hospital in Winnipeg. Predeceased by her parents, Dorothy and Sam Galpern, sister, Sondra Rothberg, hus-band, Myer Cohen, and daughter, Debi Stern.  Anita is survived by her children, Jeff (Cheryl), and Marshall (Mireille), son-in-law Richard,  grandchildren, Zachary, Thea, Samara, Jordana and Joshua, and great-grandson, Kieran.
Born in Winnipeg on July 27th, 1938, Anita was active in the Jewish community, including canvassing for Hadassah Wizo for several years.  She remarried and moved to Calgary in 1985 but Winnipeg was always home.  She moved back to Winnipeg in 2019. 
She was a loving person who was always interested in what was going on in her family and friends' lives. She never complained and always gave of her time, money and love to others. Family was everything to Anita. 
The family wishes to give special thanks to Dr. Ahmed, Dr. Borrett at Seven Oaks, and Drs. Bovell and Bazura at the Grace, along with the many nurses and aides.  As well, thank you to the amazing staff and caregivers at the Shaftesbury Park Residence, including Odessa, Jennifer, Sue, Cheryl, Debbie, Tim, Brandy, Jeff, Mike and Brian.  Thank you to Autumn at Family Managed Care. 
The funeral was held at Shaarey Zedek Cemetery on October 12, 2022. Pallbearers were Zachary Chernick, Richard Chernick, Joshua Stern, David Stern, Lewis Stern and Max Stern. Honourary pallbearers were Dick Rothberg and Danny Rothberg.
In lieu of flowers, the family asks that you make a donation to the Shaarey Zekek Synagogue Capital Campaign.