Larry Winestock was born in Erding, Bavaria on the 29th of August 1946 to Holocaust survivors Max and Rae Winestock. After a couple years they moved to start anew in Canada, where they lived in West Kildonan, Winnipeg.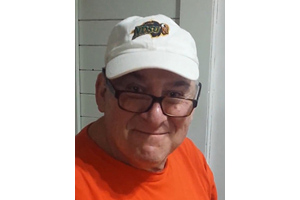 ---

Larry made most of his friends in the halls and cafeterias of Garden City Collegiate and United College, but he never stopped. His friends were his family, as has been attested to thoroughly over the past week.
Larry worked four decades with Manitoba Family Services, traveling the province and taking in its vastness. Established in that career he met Barbara Block and after a whirlwind courtship that lasted only a handful of months, the two married on the 26th of October 1980. They traveled the world in planes, trains and automobiles, taking long cruises and picking up new friends a long the way. 
Later in life Larry's health gradually but dramatically declined, plucking away the few hobbies and passions he had one by one. Though his mind was still sharp as a tack and the puns flowed like the mightiest of streams, he struggled until he could no longer navigate his suppressed mental turmoil. 
Larry died in the presence of his family on the 25th of October 2022, a day prior to his 42nd wedding anniversary. Mourning his death are Larry's wife Barbara, son Gabriel, his wife Kylee Regier, daughter Bailey, her husband Noah Moscovitch, his granddaughter Layla, and godson David Miles.
Funeral services were held graveside at Shaarey Zedek Cemetery on the 28th October and can be viewed on youtube by searching his full name. Pallbearers were Aaron Steinberg, Bruce Sarbit, Deanna Cutler, Jerry Spinak, Kylee Regier and Noah Moscovitch with help from Daphne Super and Harlyn Silverstein.
In lieu of any donation or gifts the family asks that everyone consider for a moment the men and boys in their lives. They are not perpetual rocks of emotional stability. They will always require a listening ear, a loving touch and shoulder to cry on just as anyone else. Emotional suppression can only ever be a hindrance. For too long boys have learned to be as stone and this must end. Encourage expression, expose options and ensure a means. This should be the legacy of Larry Winestock.