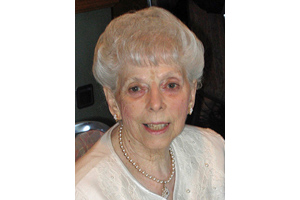 With profound sadness we announce the peaceful but tragic death of Annette Rosenberg on December 9th, 2020 at the Simkin Center at the age of 98 as a result of the incidious Covid–19 virus.
Annette was born and raised in Chicago, Illinois. She was the youngest of four children. Annette lost her father when she was 11 years of age. She and her siblings learned their work ethic from their mother who operated a Delicatessen. At an early age she met and married Fred Simkin and they had a child Mickey. Fred enlisted in the U.S. army and was killed in action during World War II.
Annette travelled with her then four year old son to Winnipeg to visit extended family, at which time she met her future husband Max Rosenberg. They married in 1946. She became part of the Rosenberg family of six brothers and sisters that were as close knit a family as one could imagine. Max and Annette subsequently enlarged their own family with the addition of Sherry and Diane.
A loving and devoted wife and mother, she cherished her children and treasured every moment with them. Annette and Max raised their three children who married and gave them six grandchildren and eight great grandchildren. She was a warm and loving mother, mother-in-law, grandmother and great grandmother. She was fortunate to live to an age that enabled her to attend many of the weddings, births, bar and bat mitzvahs and other special family occasions.
At the age of 42, while still ensuring that her home remained a traditional one for her husband and children, she bravely embarked on a career with Investors Syndicate where she held a demanding position in the payroll department and was highly respected during her 25 years with the company. She was a modern woman – well ahead of her time.
Annette was also very social and active in various organizations over the years including Parent Teacher Associations, and the Lehava Chapter of Pioneer Women. As a result she and Max enjoyed a wide circle of life long friends.
For many years after their retirement, they wintered in Florida. It was a very happy time in their life as they continued their friendships with many of their friends from Winnipeg who also wintered in the same community.
Unfortunately her long life also meant she suffered the loss of her loving and devoted husband, Max, in February of 1997. She also suffered the loss of all of her siblings and most of her brothers and sisters in law.
Annette remained independent in her apartment until a fall in September 2016 resulted in a broken hip and several months of recovery in hospital. She then moved to the Saul and Claribel Simkin Center at the beginning of 2017. Her last years were increasingly difficult with the loss of her mobility, however, her mind remained 110% active. She loved the activities, particularly the music concerts and exercise programs and was the proud table bowling champion eight times.
Annette is survived and mourned by:
Son Mickey (Roslyn) Rosenberg, granddaughter, Cheryl (Sean) Smith, great grandchildren Alexa and Ryan; Grandson Brian (Sari) Rosenberg, great grandson Jordan; Granddaughter Melanie (David) Riker, great grandchildren Aiden and Elle.
Daughter Sherry (Richard) Verdec, granddaughter Lauren (Brandon) Schulz, great granddaughter Meika
Daughter Diane (David) LeBlanc, grandson Jason (Lynette) Newman, great grandchildren Malia and Liam; Grandson Cory Newman (Jessica Legacy)
Brother-in-law Mickey (Pearl) Rosenberg and many nieces and nephews from both the Rosenberg and Protus families.
There are so many to be thanked for the care and love that Annette received over the years. Her family wants to pay special tribute and thanks to her amazing and loving companions at the Simkin Center, Mariane, Maria and Fabi and the staff of the Simkin Center Weinberg 1 and, in particular, Alissa and Cathy of the Recreation Department.
Finally, we are forever grateful to the staff of the Simkin Center Covid Unit who, by graciously acting as our surrogate, made bearable the unbearable pain of our not being able to be beside our Mother in order to hold and stroke her hand and comfort her as she passed. Thank you Sara R, Roma, Agatha and Sara D.
Annette was interred beside her husband Max in the Rosh Pina Memorial Park Cemetary on Friday, December 11th, 2020.