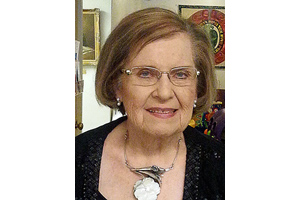 It is with great sadness we announce the passing of Sheila Streifler on December 10, 2020, at the age of 90. She was predeceased by her beloved husband Nathan, and her parents Irvine and Fanny Charach.
She will be deeply missed by her children Leesa (Kenneth), Marc (Cindy), her grandchildren Riley, Jesse, Seth, and Daniel, her siblings Harold Charach, Neil Charach (Judy) and Elaine Campbell, along with many nieces, nephews and their families.
Sheila was born on June 4, 1930, the oldest of four children. Growing up on Scotia Street, in Winnipeg's North End, she was the "big sister," a role she treasured. In her youth she attended St. John's High School and spent memory-filled summers at her family cottage at Winnipeg Beach. After attending the University of Manitoba, she worked as a legal secretary. During this time, she met our dad, fell in love, and they married in 1953. They had a wonderful marriage and mom took great joy in being a wife, a mother and a homemaker. She was an exceptional cook and baker and she created a comfortable, beautiful home. We have fond memories of family vacations to California and B.C. visiting relatives. Tragically, our dad passed away much too soon and mom was left a widow at age 46. The transition to life as a single mother was very difficult, but with great courage and determination mom rebuilt her life.
Our mother's greatest pleasure was being part of a close-knit community of family and friends. She was an active member of Winnipeg's Jewish community, giving generously of her time to ORT and Hadassah and was a member of the Shaarey Zedek Synagogue. Mom was blessed with a vibrant personality, and great enthusiasm; qualities that drew people to her. She was known to be extremely capable and savvy, and her advice was often sought out by friends and family.
Mom was motivated by what she could do for others. Doing what she called "the right thing" was very important to her. She found great joy in giving her mother the love and support she needed to live independently in her own home until she was 92 years old. Mom loved being with family and she often travelled to Vancouver and California to be at family events. Her nieces and nephews, and their families knew her well and her love for them was mutual.
With the birth of her first grandson, mom found a new role that she adored, that of Grandmother (Bobi). She was over the moon with pride for her four clever, handsome grandsons, always interested in what they were doing and making sure she was present in their lives. She had no trouble keeping up, endlessly inquisitive and full of energy.
Mom always seemed much younger than her years. She was energetic and engaged in life. She enjoyed attending cultural events, going out for dinner, and playing mahjong with her friends. Always fashionable, she was admired by many. Mom's large circle of friends, some life-long and others more recent, played a key role in her happiness and enjoyment of life. She lived a happy, active and independent life until she was 85.
After being diagnosed with a debilitating illness, mom moved into the Simkin Centre in fall 2017. Mom met her illness with grace. She was brave beyond words, setting an example for all of us, as she did throughout her life.
Mom taught us so many valuable lessons, the biggest one being that of generosity and kindness. She will be remembered as a woman of great courage and inner strength and a gracious, spirited person with an enormous capacity for joy. She was a loving mother, grandmother, sister, auntie, cousin, and friend. Our love for her is eternal and although we will miss her greatly, she will have a special place in our family forever.
We are grateful for the care Mom received from the staff at the Simkin Centre and Dr. Wayne Manishen. We are also grateful for Maria Arbuthnot, whose love and exceptional care greatly enhanced mom's quality of life.
Family and friends wishing to honour mom's memory may make a donation to the Simkin Centre, the Shaarey Zedek Synagogue, or a charity of choice.