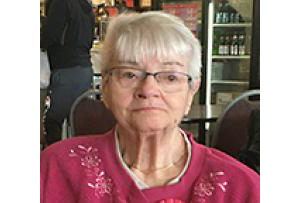 With profound sadness, we announce the passing of Esther Gotfried, November 19, 2020, at the age of 90 years, at The Saul and Claribel Simkin Centre.

Esther is survived by her loving and devoted daughter, Lillian, sister and brother-in-law, Norma and Rabbi Don Berlin, her brother-in-law, Isaac Gotfried (Hilda z"l) and many nieces and nephews and their families. Esther was predeceased by her parents, Samuel and Lillian, her husband, Bernard, son, Howard and brothers, Morris, Issie (Freda) and Abe (Rose).

Esther lived her entire life in Winnipeg. She was a devoted daughter to her parents and from a very early age helped them to operate their family-owned grocery store. This experience enabled her and Bernard to own and operate Gotfried Food Market, first on Trent and then Warsaw Avenue. Esther specialized in keeping the books and doing all the financials for both stores.

Esther was a warm and kind soul. She was an example of perseverance and the essence of positivity, generosity and grace. She cared so much for others and developed a loving community among her family, as well as her many friends. She took great interest and pride in all the milestones and accomplishments of her loved ones. She never missed an opportunity to send a card to recognize these important events. Esther actively participated in the community at large and especially enjoyed events at Gwen Secter Creative Living Centre.

Esther's home for the past five years was The Simkin Centre. She took part in all programs. Esther especially loved the concerts and would be first at the door, waiting in line. She could often be found in the atrium, enjoying a bag of chips and a soft drink, chatting with everyone. Esther was touched and honoured by the special 90th birthday party that was held this past January. Her family expresses its gratitude to all the caring staff at The Simkin Centre and especially to the team on Weinberg 3, including her wonderful nurses, Jane, Darlene, Eveline and Cheryll. They all treated Esther with incredible dignity and respect and made her last days as comfortable as possible.

A graveside funeral service was held Sunday, November 22, 2020 at Shaarey Zedek Cemetery. Thank you to the pallbearers from our community. The family is especially grateful to Rabbi Matthew Leibl for his beautiful tribute to Esther, echoing the loving words of niece, Hannah Brass and nephew, Alan Brass. Rabbi Leibl read warm reminiscences by long time, close family friend, George Saltzberg of Toronto. Esther was also honoured with a moving eulogy from her devoted friend Maxine Zabenskie.

Donations may be made to Jewish Foundation of Manitoba or a charity of your choice. Share your memories of Esther with her family at alanjbrass@gmail.com.
Esther touched many lives.

May her memory be for a blessing.