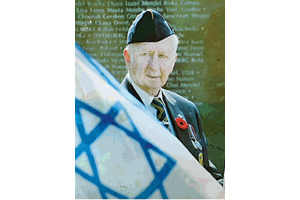 Israel Yamron, Izzy, passed away peacefully Wednesday, December 2nd, at the age of 100.
He is lovingly remembered by his daughters Barbara and Carol, sons-in-law Eric and Al, and daughter-in-law Frances. He will forever be Zaida Izzy to his beloved grandchildren, Sari, Nathan, Jordan and Ryan. Izzy was pre-deceased his wife Miriam (Rodin), his parents, Samuel and Bertha, his brother Bill and sister Fannie, and his son Allan.
Izzy grew up in the North End and attended Machray School and St. John's Tech. At 21 he enlisted in the RCAF. As ground crew stationed on Vancouver Island, he worked as an electrical technician, maintaining military sea planes. He was a proud, lifelong member of the General Monash Legion, serving in every position from secretary to president. He took great pride in the work that he and fellow Legionnaires did – supporting veterans and their families, and erecting memorials to Jewish soldiers. Izzy was incredibly proud of his Jewish identity and very committed to the Chevra Mishnayes Synagogue throughout his life.
Izzy and Miriam married in 1949 and raised their family in Garden City. With Miriam by his side he ran a Farmer's Market on Main Street, working hard, six days a week for over 20 years, to provide for his family. Family was Izzy's greatest joy. He loved the tradition of family dinners out on Sundays, exploring new restaurants with his children and later with his grandchildren. Summers at the cottage at Winnipeg Beach, driving trips around Winnipeg (Izzy's Adventure Tours!) and to Chicago, Texas, and Mexico, are some of the great memories that his family will cherish forever. Izzy loved a good adventure, and he loved to drive…which he did until he was 94.
When he moved into the Shaftesbury Retirement Residence at age 94 he became a cherished member of that community. Whether he was playing shuffleboard or poker, competing in the Senior Olympics, or telling stories, people were drawn to Izzy's great smile, warm laugh, and his beautiful green-blue eyes. He was a quiet, unassuming man, who will always be remembered for his gentle manner, his wonderful stories, and his warm and generous spirit. He was truly loved. May his memory be a blessing.
Donations may be made to the Chevra Mishnayes Synagogue or a charity of your choice.