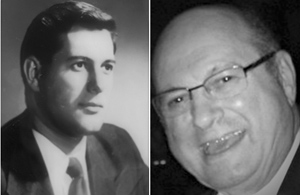 Born June 11, 1928 passed away Dec 4, 2020
It is with enormous sadness and heavy hearts that we announce the passing of Allie, loving father, grandfather and great grandfather.
He leaves to mourn, his adoring wife, Rhona of 73 years. Sons, Clifford (Ruth Anne), Sara (Jeffrey), Jordon, Gary (Roxan). Grandchildren Carrie, Tammy (Ilan), Kelly, Jared, Noah, Lily, Jacob, Andrew (Baillie), Zoe, Skyler, Bryn. Great grandchildren Zoey, Lexi, Ivory. Also leaves to mourn, his beautiful sister, Esther, sisters-in-law, Bert, Rae, Hannah as well as many nieces and nephews.
Allie was predeceased by his parents, Sarah and Moishe Shnier,
brothers George , Clifford,  Irving (Eleanor), Bertha (Gordon) Cecil, Norman, Phillip (Shirley), Jack (Esther), Max, Charlotte (Mitchell) and brother-in-law Lanny.
We all have not only lost a father and "mensch" but we have almost bid farewell to a tribe of 12, children of Russian immigrants, the quintessential story of parents who fled pogroms and persecution, to give their offspring a life in a country in which freedom, justice and acceptance were valued. These children indeed suffered their own adversities, however strove to make ours even a better world by valuing education, family, and community. The generation may be almost gone, however, the memories will indelibly be engraved in our hearts.
They were the children who worked in the dry goods store, who did their homework in the Deli kitchens, they were the border guards, the soldiers, the navigators, the POW'S, the masters of the one liners, the Shriners, the salesmen, the drive in movie owners, the antique collectors, the neighbourhood plumber, the engineers, the bakers of cinnamon buns (recipes from the war with just the right amount of rationed sugar), the volunteers, the philanthropists, the feminists and the mavens of the floor covering industry…
"Allie" was the baby of 12, born in 1928 in Emerson, Manitoba. They were a close
knit family, the older kids raising the younger ones as the parents worked in the stores. They share so many memories together and spoke of a sprawling acreage in which to run free. A family so large and united that Mothers and daughters, aunts and nieces had babies close together. As adults, when we returned to the family "Plantation" we were shocked at just how small it was!
Throughout life Allie was always treasured and showered with love, which is most likely why he in turn was able to bestow that love to us and the world.
Our Dad was known as "Allie". Not Mr. Shnier. Everyone in Winnipeg knew him as Allie.
Allie attended University of Manitoba, and then joined his Father Moishe in a small building on Ross street in Winnipeg. They carried small houseware items and established a presence. It was there Allie got his taste for business. During the following years his brothers in eastern Canada, who had the rights to lines such as BF Goodrich, introduced the factory to Allie and he eventually obtained distribution rights in the west. The company became Eagle Distributing Co. Years later all the brothers merged companies to form the national company known as G.E.Shnier and Gesco Industries Inc. These two companies eventually became the dominant National Floorcovering distribution company in Canada. After the mergers, Allie enjoyed working many years with his brothers George, Irving, Norman, Cecil & Phil. In addition to running G.E.Shnier in Western Canada, Allie was very active as the President of Metropolitan Equities, the extended family's real estate investment company.
Whether it be the janitor or the president of a National Company, he gave everyone his undivided attention and the respect they deserved. No one was ever invisible to him and he made sure that when someone new came into the family, they were accepted with welcome arms. He had no dark side, he only saw the good in people.
That's what made Allie so special.
He was an astute businessman. His polite manner and kind disposition made people feel respected and heard.
Our father was a "Quiet Philanthropist'. Should it be a religious cause, an employee, a family member or a charitable event. Wherever and whomever he rose to the occasion helping any in need. He got pleasure from helping others and often said it made him feel good. He was a modest man and could've taken credit for his contributions, instead he chose to give often and quietly. People knew they could always rely on Allie, but never took advantage of him. He was uncomfortable in the limelight, but warmth emanated from him when he stepped into a room.
He was the prince of paying it forward, never wanting the recognition or acknowledgement. Our dad reached out to many less fortunate. When he noticed suffering in society, he did all he could to make a difference. He was a fair and honest person, a man of integrity.
Food gave him a great source of enjoyment. When we all worried about his sugar intake, (he was diabetic), we would tell him, "now dad, you can't eat anything white. Such as bread, rice or potatoes." To which he responded, "now let me get this right dear, I can't have vanilla ice cream, but I CAN have chocolate?"
Allie had a mantra. It was to tell everyone he came in touch with that he loved them, even the server at a restaurant or the technician drawing his blood.
His love for our mother was unimaginable. His happiness was gauged on hers and quite often had lipstick kisses on his shiny bald head. When he was hooked up to a heart monitor, he asked, "does this machine show how much I love my wife?" Our mother has dementia and when she spoke in an incomprehensible manner, dad would gaze lovingly into her eyes and would mouth, "I love you."
Allie was a superb crossword master. He was confident enough to do them with his lucky red Rae & Jerry's pen. Occasionally completing the Sunday New York Times puzzle.
The pride and joy of his life were his kids,  grandchildren, and great-grandchilren. His generosity to them was beyond belief. Visits to Palm Springs in the winter, the cottage at the lake in the summer, family reunions or simply to celebrate special occasions, bonded us all over the years. This will leave us with memories which will endure permanently.
An essential visit to the hospital for a blood transfusion, ended in a serious fall. The ramifications of Covid 19 made for a cycle of frustrations for us, as we fought to make sense of it all. It gave us restricted access at a time when it was most needed.
Our parents had the privilege of aging at their familial home. The care, respect, and devotion which the caregivers bestowed upon our parent's physical and mental wellbeing, is a cherished gift which we shall forever be indebted.
Special thanks to Dr. Simkin, Dr. Goldberg, Dr. Yang and Dr. Wilson. As well, the wonderful staff at Seven Oaks Hospital. We would also like to thank our cousin
Dr. Sarah Kredentser for her support and advice.
Immense thanks to caregivers Anna (Nikki),Clarisse,Richelle ,Dianne , Ernelle, Lorenza (Vina) , Fatima, former employees, Rachel and Fay
In lieu of flowers, tribute donations may be made to the Allan and Rhona Shnier Foundation of The Alzheimer Society of Manitoba or The Jewish Foundation of Manitoba.
Ó