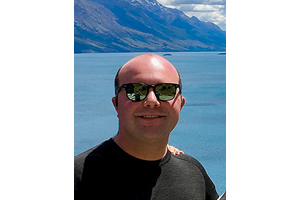 It is with heavy hearts and overwhelming sorrow that we announce the sudden passing of Dr. Benji Itzkow on November 15th, 2021. Although Benji fought a variety of physical ailments throughout his life – he faced each day with determination; he was knocked down 100 times, but got up 99.
Since 2013, the love of his life, Eleni Wener, gave him strength and drive to realize all of his dreams. The birth of their son, Carter Sammy Itzkow, was the pinnacle of these last years, and gave him more joy than he ever imagined.
Benji is survived by his wife, Eleni Wener, and son, Carter Itzkow, his parents, Cathy Moser and Jeff Itzkow, brother, Jono and sister, Frannie (Emmett Brennan), parents-in-law, Lynne Oreck-Wener and Bob Wener, ever loving grandmothers-in-law, Evelyn Wener and Zoe Oreck, brothers and sisters-in-law, Taryn and Tim, Hart and Jocelyn, and his adoring nephews, Lucas and Cooper. As soon as they started dating, Eleni's family embraced Benji as one of their own, and the love was mutual.
Benji was predeceased by his loving and influential babas and zaidas, Ann and Sam Moser and Dolly and Bill Itzkow, and precious dog Zoe. Zaida Sam and Baba Ann taught Benji that it was possible to live with a chronic illness and still laugh and enjoy each day to the fullest. Benji loved to better the lives of the Itzkow, Moser, Wener and Oreck families, friends, and community. His generosity extended beyond what was known by his families at his time of passing. Benji also leaves an enormous hole in the lives of his aunts, uncles, and cousins: Meite Moser and Chris Bottrill and Mark Moser and Sheila Kercheff, who played large roles in his life. Their children were extended nuclear family – as he was the eldest cousin, leading his troop of followers and sometimes rebels – Elliot and Nathan Moser, Samantha and Gabe Bottrill. Benji's Uncle Martin and Edward Mah and Uncle Butch loved him dearly and the feeling was reciprocal. Benji enjoyed adventures with Butch and Mary Pokrant's children, Rebecca (Matt) and Jacob (Alex), when they came into town.
Benji was a life-long friend; the kind of friend everyone wanted. He would describe himself as having a small number of friends but the richest of relationships. He had the best friends – his boys, who knew him since elementary school and even before; his friends from Optometry at the University of Waterloo; new friends – Benji embraced Eleni's girlfriends across the country. Benji was fun-loving, compassionate, thoughtful, generous, and selfless. He made other people's lives better. Benji and Eleni shared a life together that was always about helping others.
Benji was also someone who made great things happen. He had big plans, and he wasn't just a dreamer with his head in the clouds, but a doer. After graduating as a Doctor of Optometry from the University of Waterloo in 2011, Benji honed his skills before starting his own business, Eyes in the Village, in 2015. Benji was equally great as an eye doctor and a business owner. Benji had a gentle way of speaking and a kind smile. He was the kind of eye doctor everyone wishes they had. Benji was incredibly talented and thrived on helping people see the world clearer.
Benji loved gadgets. He loved making and creating. He spent his free time woodworking, tinkering on the 3D printer, fishing, going to music concerts, cooking, and baking. But his most treasured roles were as a dad and a husband. His respect, support, and love for Eleni was boundless. In such a short time Benji taught Carter many things, like how to use tools, and to take time to stare and watch trains. They had a bond of true love that only a father and son can share. Benji was a dependable, generous, kind-hearted young man, beloved by all who were fortunate to meet him. People were drawn to Benji. He was such a determined fighter and nothing could keep him down. This is the gift he has given us and continues to give us – to be better – and to remember him and honour him by being better, by fighting harder, by trying more.
He will be sadly missed by his family and wonderful friends.
The family would like to thank Benji's medical support team – Dr. Charles Bernstein, Dr. Michael Coodin, Dr. Michael Hochman, Dr. Marcus Ng, Dr. Harvey Chochinov, Dr. Laura Chisick, Dr. Marli Leibl and Dr. Noam Katz. They were available 24/7 for consultation and care. Thank you to our countless friends and family that have dropped everything during each emergency. Thank you to the first responders at Fire Station #3. Finally, we are eternally grateful to Benji's wonderful staff that became family at Eyes in the Village. The EITVO team made every day easy for Benji to get up and go to work with a smile on his face every day.
Services were held at Shaarey Zedek Cemetery on November 18th, 2021. Pallbearers were Jono Itzkow, Gabe Bottrill, Hart Wener, Matthew Frankel, Jordan Fogel, and Marshall Weinstein.
Donations in Benji's memory may be made to The Benji Itzkow and Eleni Wener Family fund at the Jewish Foundation of Manitoba, www.jewishfoundation.org 204- 477-7520 or to the HSC Foundation Advancing Epilepsy Care Fund with a reference to: In Memory of Dr. Benji Itzkow, https://www.hscfoundation.mb.ca/ 204-515-5612.