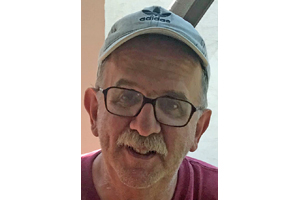 With deep sorrow, we announce that Aaron Chaim Sommer passed away unexpectedly at the age of 64 (born August 24, 1957) on Saturday, November 6, 2021.
He was most immediately predeceased by his mother, Sarah Sommer, his paternal grandparents, Levi and Fanny Sommer, and his maternal grandparents, Samuel and Clara Rodberg. Aaron is survived by his father, Alex Sommer, his daughters Serina (Jason Frizell) and Sierra, his siblings, Reena Sommer (Michael Thomas), Naomi Sommer (Hart Greenberg), and Hillel Sommer (Marlaina Sommer), his nieces and nephews, cousins and other extended family, as well as by very close friends, Albert Yanofsky, Henry Goldfeld, and Martin Pollock.
Aaron had a keen interest in sports, playing cribbage, socializing with his close friends, volunteering, and having a weekly dinner with his father. He always took a special interest in staying in touch with those he felt closest to.
The family would like to thank the staff at Jewish Child and Family Service, Opportunities for Independent Living and the Gwen Secter Creative Living Center, who provided Aaron with much support, friendship and guidance throughout the years.
For those wishing to honour Aaron, donations can be made to Manitoba Possible. Aaron will sorely be missed.