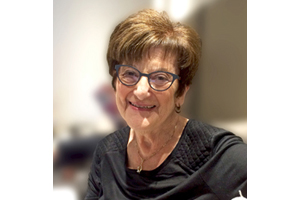 With deep sadness, we announce the passing of Bernice Levine-Rissin on June 17, 2021, at the age of 86. She is survived by her children, Allan Levine (Angie), Brian Levine (Susan), Shayla Morrison (Jeff) and Joel Levine (Stephen Hinds);
 grandchildren Jason Levine (April), Shawn Levine (Heather Doi), Justin Levine (Hayley), Alexander Levine (Shannon), Mia Shaffer (Geoff), Megan Morrison (Aaron Clarfield) and Brooke Morrison; great-grandchildren, Benjamin, Rachel, Piper, Hurin, Josephine, Meyer, Liliana, McCartney, Kole, Erica and Emmy; her brother Mel Kliman (Wendy Wright) and her sister Sharon Earn (Brian) She will also be missed by her many nieces, nephews, cousins and friends. She was predeceased by her husbands, Marvin Levine and Joe Rissin, parents, Sam and Sarah Kliman, sister Freda Morry and her husband Manuel Morry.
Bernice was born on January 10, 1935 in Holland, Manitoba where her parents ran a general store. She and her siblings worked in the store and participated in all of the community's events. On the High Holidays, the family would journey to Brandon, Portage la Prairie, or Winnipeg for prayer services. Passover also entailed extended visits of relatives from other towns for large seder gatherings. Summers and other holidays were the same. She remembered her house in Holland often being filled with aunts, uncles, and cousins, sleeping anywhere there was room. She had many fond memories of skating, curling, and going to hockey and baseball games with her school friends.
She married Marvin in 1954 and they had thirty-nine happy years together raising four children, participating in Jewish community events, summering at their mobile home in Gimli and in later years spending winters in Palm Springs. After Marvin passed away in 1993, she married Joe in 1996 and they, too, enjoyed their families and friends and traveled together until Joe passed away in 2013.
Bernice was a kind and generous person. She was a devoted mother and a great cook, especially during the holidays. Whatever the occasion, the Mixmaster always came out and she got down to work. Later when three of her children left Winnipeg, she never failed to bring an extra suitcase of cookies, cakes and other goodies when she traveled to visit them and their families.
She was the happiest when she was surrounded by her children, grandchildren and great-grandchildren. She led an active life filled with friends, fun and laughter. She enjoyed bowling, playing Mahjong and bridge, and long walks especially in Gimli and Palm Springs. She was active in ORT, the Rosh Pina sisterhood, and involved in the synagogue's activities. For many years, she worked in the offices of the Rosh Pina Synagogue and then the Shaarey Zedek Synagogue.
The past five years or so were very difficult for her and she faced a myriad of health problems. She was strong and courageous and learned how to use a prosthetic after she lost a leg. Early in 2020, she relocated to the Saul & Claribel Simkin Centre Personal Care Home. Our family would like to thank everyone at the Simkin, especially the staff on Weinberg 3, for providing excellent care of her particularly over the past year during the pandemic. Though we could not see her all of the time, we were never concerned that she was not receiving the best of care. We will all miss her a lot and cherish our memories of her.
Funeral service and burial took place at the Shaarey Zedek Cemetery on June 20, 2021, officiated by Rabbi Anibal Mass. Pallbearers were: Allan Levine, Alexander Levine, Jeff Morrison, Geoff Shaffer, Yale Shaffer and Evan Cantor.
Donations in Bernice's memory may be made to the Saul and Claribel Simkin Centre or a charity of your choice.