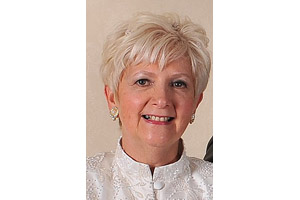 Carol Rachael Goldenstein, nee Schwartz, passed suddenly in her home in Edmonton, Alberta, on June 30, 2022. Carol is survived by her devoted husband George Goldenstein, her loving children, son Michael Baron (Donata) of Edmonton, Alberta, daughter Lisa Brodsky (David) of Minneapolis, Minnesota, daughter Jennifer Joseph of Los Angeles, California, adored grandsons Ryan, Dylan (Kelly), Sean (Geraldine) and Zachary, sister Esther Cybulsky of North Carolina, sisters-in-law and many nephews and nieces in Thunder Bay, the USA and France. 
Carol was preceded in death by her husband Robert Joseph and her parents Max and Pauline Schwartz.
Carol was a loving wife and friend to her husband George and devoted mother and "Baba" to her beloved children and grandchildren. Carol is greatly missed and her memory will always be cherished. Carol was born and raised in the legendary "North End" of Winnipeg when the area was populated by a preponderance of Jewish and Ukrainian hardworking immigrants. She always felt fortunate to have attended Norquay School where she received a wonderful elementary education with a strong emphasis on respect, morality and valour; values which were instilled in the students along with a solid foundation in reading, writing and arithmetic. Carol loved and excelled in sports, from baseball, volleyball, basketball, to track and field, and was particularly proud of having participated in the inter-provincial high school hurdle competition for Manitoba.
Carol attended Talmud Torah Hebrew School, Norquay Elementary School, Aberdeen Junior High School, St. Johns High School and United College, graduating with a Bachelor of Arts (English, Psychology).
Carol spent many hours working in her parents' grocery store in the North End where she met a myriad of interesting characters from all walks of life. She could recount many hilarious as well as hair-raising stories of her life growing up in the North End. Carol learned early in life the value of hard work and dependability, and imparted the same principles to her three children in order teach them to be self-reliant.
Although experiencing some struggles in her life, Carol managed, through determination and strength of character, to overcome all obstacles. Above all else, Carol was a survivor. She always felt blessed to have met the "love of her life", her husband George who, she said, made her "feel like a queen" and filled her later years with so much love and happiness…something she never expected to happen at that time her life.
Carol's beloved husband George made her fantasy of travelling to Paris come true (twice). They also travelled throughout Canada, the United States, Cuba, and the ultimate trip-to Israel, where they swam in the Mediterranean, toured Tel Aviv and were thrilled to explore the living history of Jerusalem where they were privileged to celebrate George's Bar Mitzvah at the Kotel (the Western Wall of the Temple Mount).
Carol loved Winnipeg, her home town where she was born and raised. Her interests were many and varied, from movies, books, concerts, theatre, opera, symphony, ballet, chess, gardening, travel, camping, trips to Gimli, Winnipeg Beach, the Forks, Assiniboine Park and the Zoo, to the Manitoba Moose and the Winnipeg Goldeyes games.
Carol was employed for many years by various businesses and institutions in Winnipeg, including, the University of Manitoba Medical College, and the RBC Convention Centre.
In her last years living in Winnipeg, Carol found herself caring for her husband George's recovery from a serious illness. George went from a near death experience to nearly full recovery, due to Carol's nursing and help. But then the tables turned, and age caught up, and Carol found herself slowly getting worse and worse. At this time, her kids were all living far away, and they had no home care or other support service of any kind. They were basically on their own, and the health issues grew and grew. Something had to be done.
So 14 days before Covid struck, they miraculously sold their house and moved to Edmonton, to live in one of their son Michael's two houses, which were within a 5 kilometre drive of each other. Both Carol and George were amazed with Edmonton, not only because of the fantastic daily in-home support Carol was receiving from Alberta Health Services, but also from Jewish Family Services as represented by the wonderful Rhonda Eidelman. Rhonda was a blessing in Carol's life.
Carol was also impressed with the kindness and politeness of strangers in Edmonton, even minor things like holding open doors. She noted a consistency of this kindness in Edmonton. And she loved her neighbours, particularly Lauren and Mike across the street, whom she had visited for a pool party only two days before her death.
For the last few years of her life in Edmonton, Carol had the pleasure of getting to spend quality time with her son Michael and spouse Donata. Tours and hikes in the mountains of Jasper, Banff and Canmore, small lake hikes in Camrose and various Edmonton communities and the river valley, and many barbecues and dinners at both houses were enjoyed. She loved her back yard, her flowers, the birds (particularly the blue jays) and just sitting on the deck in the sun, listening to music. As she loved movies, she watched many together with George, Michael and Donata, and the last one she really enjoyed watching, while all four grandsons were visiting, was "Nobody", with Bob Odenkirk, filmed in her beloved Winnipeg.
In the last week of her life, Carol had a glow of true joy on her face when her son Michael showed her videos and pictures from the wedding of her grandson Sean, which was held in Minneapolis on June 18, 2022. It pained her greatly to have missed this wedding…she had always dreamed of dancing at her grandsons' weddings. Her health did not allow this. But the videos and pictures seemed to capture enough to make her smile.
On the last day of her life, her son Michael came over to work on repairing the garage stucco. She acted happy to see him as she always did, and was looking forward to the Rugelach treats he had brought for her and George's enjoyment. Within the hour, she was gone.
Carol was enthusiastic about life and was reluctant to leave this earth as she was curious as to what was going to happen next and didn't want to miss any of it! She had a wonderful sense of humour and could always make you laugh even in the most trying of circumstances.
A funeral was held at the Etz Chayim Synagogue on July 5, 2022. Interment was at Bnay Abraham Cemetery, West St. Paul. Pallbearers were her son-in-law David Brodsky, and her grandsons: Ryan, Dylan, Sean and Zachary, and Marvin Ben-Ari. If so desired, donations in her memory may be made to a charity of your choice.
Private shiva
"The song is ended but the melody lingers on."