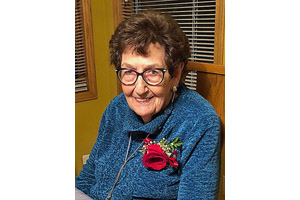 It is with the deepest sadness that we announce the passing of Shirley Chochinov on July 2nd, 2022.
Shirley was predeceased by her parents, Joseph and Florence Wolodarsky, siblings Doris (Fred) Lacovetsky, Jack (Shirley) Wolodarsky, Marilyn (Martin) Levitt, brothers-in-law Larry Usiskin, Sid Bagel, and Norman Chochinov, sister-in-law Claire (Harold) Shukster, and beloved daughter Ellen Chochinov.
She is survived by her husband of 71 years, Dave Chochinov, her children Harvey (Michelle) Chochinov and Brenda (Howard) Ryant, grandchildren Lauren Chochinov, Rachel (Cam Marr) Chochinov, Brad (Kelcie) Ryant, Jeremy (Rebecca Visser) Ryant, and great-granddaughter Sawyer Ryant, her sisters Rose Usiskin and Evelyn Bagel, brother Bill (Anne Marie) Wolodarsky, sister-in-law Gertie Chochinov, and numerous nieces, nephews, and dear friends.
Shirley was born October 25th, 1930 in Winnipeg's North End. Born the fourth of seven children, Shirley grew up on Boyd Avenue surrounded by her siblings, her parents, and extended family.
In 1951 Shirley married Dave Chochinov, and for over seventy years, they formed a partnership for the ages. Their love and devotion, their mutual respect and their deep understanding of each other set an extraordinary example for their children and grandchildren. Together they raised Ellen, Harvey, and Brenda, through adversity and joy. When Dave and Harvey Cogan bought Tasty Seeds in 1976, Shirley and Nessie Cogan ran the front office, helping turn the business into a success for nearly 20 years.
She was the engine of the family, constantly planning parties and get-togethers. Dave and Shirley loved to entertain and their house on Attaché Drive and cottage at Winnipeg Beach were a gathering place for holidays, birthday parties, and BBQs. Shirley had a way of running the show in her quiet, unsuspecting manner. No matter how many people, no matter how many last-minute guests, she found an extra chair, an extra bed, and always more food. From the Wolodarsky family's annual Cribbage Tournament to hosting the entire Lakeside Camp for the Handicapped, the door was always open, always welcoming.
Shirley's pride in her children was only surpassed by the pride she had in each of her grandchildren. She loved them endlessly and took delight in their accomplishments, in their phone calls and visits. She was warmth and kindness. Her love was a sanctuary. Shirley lived to see her first great-grandchild, Sawyer, and constantly marvelled at her intelligence and her beauty. She would excitedly report Sawyer's achievements to anyone in earshot. Sawyer's first words, her first steps brought Shirley happiness during her final years.
The family would like to thank Dr. Bruce Martin for his extraordinary care of Shirley and Riverview Hospital's Palliative Care Unit E3. In lieu of flowers, donations can be made to Riverview Health Centre Palliative Care Unit E3 or Manitoba Possible (formerly Society for Manitobans with Disabilities).