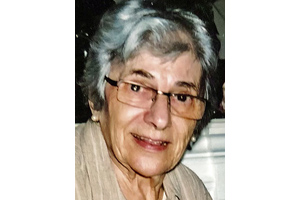 Frances was a wonderful person. She excelled as a mother and left a wonderful legacy for all who knew her and loved her. Her homes were teeming with all variety of books, classical music, opera, and most loved Broadway shows.
She loved to cook for her family, loved watching everyone eat and loved to talk about food and try new recipes. Frances had undeniable love for her family… it was constant and unbreakable. She kept her thoughts to herself. Never was critical of anyone, especially her children.
Frances would frequent the WSO as season ticket holders with her husband Moishe and, after Moishe died, would continue to attend with friends or by herself. Whether it was the ballet, symphony, MTC, PTE, Opera she would be there: energetic, sharp, inquisitive, ageless in her nineties, and often with her car parked outside to drive herself home. She was a spectacular woman, exuberant, with a ferocious independence of mind, and totally unwearied investment in the world. She loved discussing world events and always had an opinion which she would share but not before she listened to what you had to say. Frances was always friendly to new faces, she took great pleasure in meeting new people and was always so warm, tolerant, accepting and inviting.
Frances "lived," in the full sense of the word, nearly a century. She expressed an interest in everyone and everything; she traveled the world with Moishe and they gave their grandchildren indelible experiences. One such trip was a ski trip to Banff, driving in December (along with a giant icebox of food), and taking 4 grandchildren skiing to Banff. In her later years, she played with and fawned over a growing multitude of 13 great-grandchildren. She made so many new friends, whom she kept over a lifetime; she opened herself to art, purely for the love it. She was well known as a valuable volunteer at Art Rental at the WAG. Frances loved working out and was well known at the Rady JCC track, with extra weights on her shoulders, plugged into CBC Radio .
What defined Frances? Her intelligence, her interest in everyone and everything, her thoughtfulness, her smile……
She is survived by her children: Len , Seymour, Miriam, and son-in-law Gary; her 10 grandchildren: Laine, Courtney, Jonah, Jess, Janna, Leslee, Carly, Melissa, Michael, and Maddy; and 13 great-grandchildren.
Mom, you died only a year ago but you are still with us every day. The sweet thoughts of you bring a smile to our faces.
Your memory is a blessing.