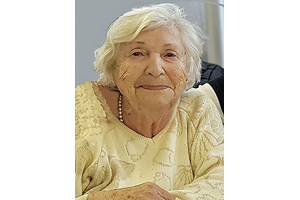 It brings great sadness to announce the passing of Chana Kempner Stern (Z'L) who was the beloved wife of Max Stern who pre-deceased her. She leaves to mourn her step-son, David Stern, as well as many cousins and friends in Canada, Israel and US. Chana died in Winnipeg on June 16, 2022, and was buried in Israel on June 29, 2022.
She was 94 years old. There will be a celebration of her life event to be held in her honour, with her step-son, David, along with relatives and friends, in Winnipeg next month.
The following obituary was written by Esi and Amy Zion, cousins of Chana's, from Edmonton, AB:
Chana Kempner Stern nee Shapiro was my grandmother's cousin and was like an aunt to my mother and a great-aunt to me. Chana and my grandmother grew up together in Suchedniow, Poland; she went to Beit Yakov, a school for girls where she learned to read and write in Yiddish as well as Polish school. Chana was the eldest of three children in her family: Asher and Hershel were named after their zaidas. At age 12, she went to work in Factory Camp B, then A, in the nearby Skarzysko-Kamienna concentration camp on the false promise that it would save the rest of her family. On our last visit together, I recorded her story. She said that in fact, her family was rounded up on Yom Kippur while she was working in the camp, and they were taken to Treblinka. She was spared because she was working and she never saw them again. My grandmother, and my grandmother's brother, and another cousin, Rochshe, were her only surviving relatives. After liberation, she recalled the cold reception from her fellow Poles who were surprised to see that a Jew had survived and would not let survivors enter the emptied Jewish homes.
Recovering from a lung problem after the war, she was found in a German sanitarium by shlichim who were looking for orphaned survivors to populate kibbutzim. Once she recovered, they went through the Alps into Italy with fake passports bound for Israel. Her boat reached the port of Haifa, but was re-routed by the British to Cyprus. Chana was almost 17 at the time. After about nine months in Cyprus, once the State was declared in '48, Chana was sent back to the port of Haifa where she was ordered into a tank with the barrel pointed at the sky. They told her to shoot at any enemy airplanes. Thankfully, she recalled, she never had to pull the trigger. In Israel, she learned Hebrew, she met her first husband, her great love, Judah (Yehudah). For many years they lived in Petach Tikvah, where Chana worked as a telephone operator. Chana found a new life in Israel and a new family in Judah.
Judah passed away decades later, but Chana never stopped speaking about what a good and kind person he was. Eventually she got remarried to a Canadian, Max Stern, and relocated to Winnipeg. In Winnipeg she had a wonderful life with Max, found friendship in the large Jewish community where she could speak Yiddish fluently while learning English day by day. They were avid card players. Chana excelled in bridge and enjoyed trips to the casino until the end of her life. She and Max welcomed people into their home like family – she enjoyed constantly entertaining, cooking traditional Jewish food for her guests, and recounting funny stories and memories.
In 2005, Chana was widowed a second time. She continued to have a zest for life in spite of all that she went through. Chana was a loyal and committed friend, and a joyful presence in everyone's life. A complaint was never uttered from her lips; she always focused on gratitude for the simple pleasures and privileges in life. During Covid, she would list the items in her house that she was thankful for: her TV, her phone, having heat, and enough to eat: "What more could I ask for?" Always on the phone with friends or family, she remained a telephone operator of a different sort, until her last day. Chana was not only our family – she was a dear friend and advisor to my mother and me. She was always interested in our lives, always listened, asked questions, and wanted to know everything. We loved calling her and speaking to her, there were always laughs to be had, and Chana always laughed from the belly.
I remember begging her to get a Covid vaccination, and she only relented when she found out she would otherwise be barred from the casino and the bridge club at Gwen Secter. She was practical to the enth degree. She was the last Holocaust survivor in our family, and the last first-hand witness of the atrocities that took most of our relatives. She was a model in how she not only survived, but lived and flourished in spite of everything. But as she told me when she spoke about the war, regardless of the smile on her face, such pain as losing her family all at once never leaves you, nor the guilt that went with it. "Thank G-d I'm alive – or do I? That is a big question, and some questions cannot be answered."
We cannot believe she is gone. We will miss our Chana'le dearly. We take solace knowing that her final wish was fulfilled: to be buried beside Judah in the land of Israel that took her in when she had no one.