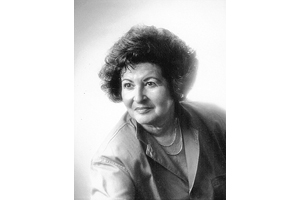 Athlete, aesthete, early adopter, stylish dresser, party-thrower, voracious reader, world traveler, prodigious note writer, award-winning gardener – these are but a few of the many ways to describe the one and only, Debby Lexier.
A long-time River Heights resident, born in the north end of Winnipeg, Debby and her husband Easton designed their own Modernist home and lived in it for over 60 years. Their house at 690 Lanark and their award-winning gardens were a tremendous source of joy and pride.
Debby graduated in 1950 with a Bachelor's Degree in Interior Design from the University of Manitoba and quickly landed a job with GBR Architects, where she was the first BID graduate ever hired by an architectural office. Other "firsts" include being a founding member and the first President of the Interior Designer's Institute of Manitoba. In addition to numerous freelance projects, Debby wrote weekly articles on Interior Design for The Winnipeg Tribune and was a lecturer on Interior Design at adult evening school. She also lent her expertise as a juror for the Premier's Award for Design Excellence, for the National Design Council, and for the Canadian Awards for Business Excellence. She represented Manitoba and Canada on numerous committees, was the Director of the Design Management Centre at the University of Manitoba, and was the Executive Director of the Manitoba Design Institute. Debby had a great interest in travel and participated in many of the research trips organized by the Study Tour of International Design, which took her to Russia, Scandinavia, Europe and China.
She appreciated well-made, well-considered objects, and filled her house with progressive art and design. She was known for her parties, which were planned and colour-coordinated to the smallest detail. She loved flowers – growing them, drawing them and pressing them inside many of the books found in her home. She was massively creative, and supported and encouraged the creatively of others.
Debby Lexier was a cool auntie and a very engaged grandparent. She created a world where the ordinary became extraordinary, where no one was allowed to be bored. Significant events were always celebrated with sparklers.
Pre-deceased by her husband Easton earlier this year, her parents Jack and Sarah, as well as sisters Fraidla (Pollick) and Marcie (Raber), Debby leaves daughter Jill Lexier (Neil Samuels), sons Jonathan (Paula) Lexier and Micah Lexier (Guy Anderson), grandchildren Josh Lexier, Suzanne Lexier and Lex Samuels as well as some 50 nieces and nephews.
The family would like to thank the wonderful staff and administration of The Saul & Claribel Simkin Center, where Debby spent her final years, for their care and attention. Special thanks to Lisa Gregg, Debby's caregiver and "angel", for her love and devotion. Tributes can be made to The Simkin Centre.