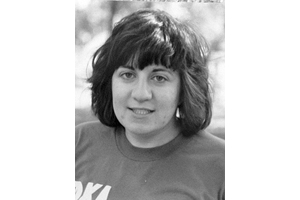 After a long and courageous battle with cancer, Cheryl Anne Lazar, loving wife, mother, daughter, sister and aunt, passed away on June 30, 2020 in Winnipeg, Manitoba.
When she was first diagnosed with breast cancer in the summer of 2008, Cheryl was told that she had two years left. Always a fighter, she managed to add an extra decade to her life, living a relatively full life until her last month.
Cheryl was born in Winnipeg on November 2, 1965 to Adam and Judy (Schaffer) Lavitt, the second of four daughters. Cheryl grew up in the Garden City area of Winnipeg, and attended school at Talmud Torah, Forest Park School, Jefferson Junior High School, and Garden City Collegiate.
After graduating high school, Cheryl entered the Faculty of Commerce at the University of Manitoba, graduating with a Bachelor of Commerce degree. After graduation she entered the work force as an auditor, spending most of her career with Arctic Cooperatives Ltd.. As an auditor with ACL, she got to travel to many far north communities, which appealed to her adventurous spirit. She came to know and appreciate the people and culture of the Inuit of the far north.
Cheryl had a free-spirited, outgoing personality, and made friends easily. While accompanying some friends to a party in 1988, she introduced herself to the party host, Michael Lazar. After "running in to" each other several times over the next few months, they began to date. On April 1, 1990, while seated on "The Climbing Tree" in Kildonan Park, Michael proposed to Cheryl, and they were married on August 4, 1991. In keeping with Cheryl's thirst for adventure, Cheryl and Michael honeymooned by backpacking their way through France, Switzerland, Austria, Hungary, Czechoslovakia, and Israel.
Family and friends were very important to Cheryl. She was a dedicated soccer mom (and hockey mom, basketball mom, and baseball mom) to her three children. She was a cheerleader for their exploits in the arts and theatre, and always ready to help "encourage" them to finish their homework. She nourished and relished in long-term friendships from her days in Garden City, with her "Commerce Girls", her friends from the Atah young Jewish adults group, from the neighborhood on Embassy Lane and later on Driscoll Crescent, from Congregation Etz Chayim, and many other friends that she made along the way. She was always there to celebrate good times, and to comfort in hard times.
Cheryl was pre-deceased by her father, Adam Lavitt, her grandparents, Liselotte and Abraham Schaffer and Harry and Eda Lavitt, and her in-laws, Rhona and Ronald Lazar. She is survived by her husband, Michael Lazar, her three sons, Elliot, Gabriel and Levi Lazar, her sisters Helen Lavitt-Smith (Carey), Debby Lavitt, and Susan Boyd (Ryan), her nephews and nieces Shannon (Jeff), Jeremy, Benji, Breanne, Brooke, Rory, Ezra (Sonia), Yona, Galya, Gilon, Casey, Solly, Aaron, Rachel and Jack, and great-nephews Max and Noah.
Cheryl's funeral was held at the Rosh Pina Memorial Park, officiated by Rabbi Kliel Rose and Cantor Tracy Kasner. Pallbearers were Bert Schaffer, Allan Schaffer, Ron Worb, Gary Lazar, Matthew Lazar, and Joel Kay.
Cheryl's family would like to thank her oncologist, Dr. Valerie Gordon, and the doctors and nurses at the Health Science Centre. They would also like to thank the many family members and friends who have lent their support both during Cheryl's illness and following her passing.