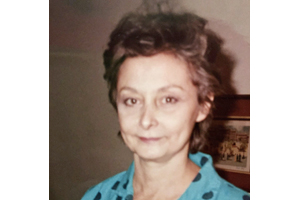 Rochelle "Cooky" Elkun Passed away Friday, July 24, 2020 after a brief but heroic battle with leukemia.
Cooky was a wonderful devoted daughter, sister, aunt, great aunt and friend. Her dog Brandi was her constant companion until she went to doggy heaven.
Cooky was pre-deceased by her loving parents Deby and Louie Blank.
She is survived by her sister Sheila and brother-in law-Sheldon Altman; niece Barbara Altman and her children Lewis and Deby McIntosh; niece Michelle Altman and daughter Jade Hrynyk; and nephew Richard Altman. Cooky is also survived by many close family members and friends to whom she was very devoted.
Cooky lived in West Kildonan where she attended Victory Elementary School, Edmond Partridge Junior High, and West Kildonan Collegiate. After high school she went to work at General Distributors until she married in 1964. She moved to Detroit, Michigan and also lived in Chicago. Cooky returned to Winnipeg in 1971 and remained here until her death. Over the years Cooky loved to travel, spending summers in Winnipeg Beach and winters in Florida.
Cooky will always be remembered and deeply missed.