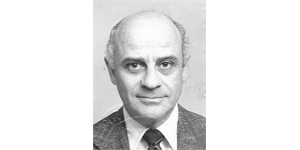 Dr. Earl S. Hershfield died on January 30, 2022 at the age of 87.
He was predeceased by his parents Sheppy and Teenie, and his sons David and Bryan. He is survived by his wife Betty Anne, siblings Melvyn and Sharon, son Jeffrey, daughter-in-law Alison, and grandchildren Andrew and Sophia.
Earl grew up in the vibrant Jewish community of Winnipeg's North End. He attended Ralph Brown and Machray schools. While a high school student at St. John's Tech, Earl was a provincial champion in the 100-yard dash. He received a B.Sc. degree and later an M.D. degree from the University of Manitoba. After completing a residency in internal medicine at the Mayo Clinic in Rochester, Minnesota, he returned to Winnipeg and went into private practice with his father and uncle.
In 1967 he joined the faculty of the medical school at the University of Manitoba and was appointed Associate Medical Director of the newly formed Joint Respiratory Program. His primary responsibility was to run the tuberculosis prevention program for the province of Manitoba, a position which he held for many years. It was as a specialist in TB that Earl made his mark in an illustrious career spanning many decades. He modernized the protocols for the control of TB in Manitoba, advocating for the closure of the largely ineffectual sanitoria, introducing cutting-edge drug therapies and innovative treatment regimens which ensured that patients received the full benefits from their life-saving medicine. He travelled extensively throughout Canada's North as well as internationally, advising governments and health agencies on TB prevention and control. Earl co-authored an influential text on TB, and was actively involved in research. He served as Executive Director of the Canadian Lung Association from 1975 to 1982, and as Secretary-General of the North American region for the International Union Against Tuberculosis and Lung Disease from 1979 to 1992, receiving its distinguished service award in 2000.
Earl was an active and engaged member of Winnipeg's Jewish community. He was a member of the Ramah School board while his children were students there. He served two terms as president of the Y.M.H.A. and was a long-time board member of the Jewish Federation of Winnipeg. Latterly, Earl was president of the Adas Yeshurun-Herzlia Synagogue which, in its original incarnation in the North End, was the shul his family attended and where he had his bar mitzvah. He did a masterful job guiding the shul through difficult times, leaving it in a much better place than where he found it when he took over as president.
Funeral services were held at the Rosh Pina Memorial Park. Pallbearers were Melvin Fages, Joel Hershfield, Gary Nerman, Jordan Garber, Zack Babins, and Martin Pollock. Honorary pall bearers were Alison Gillmor, Sophia Hershfield, and Andrew Tefs.
Donations may be made to a charity of your choice.