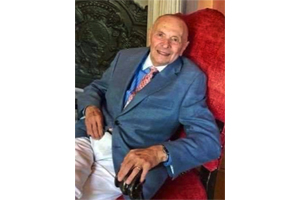 It is with great sadness that we announce the passing of Norman Perry Isler (Naphtali Peretz ben Leepe, ha Levi). Norman was the beloved husband of Toba for 63 years. Loving father to Pamela (Robert), and Rhonda (Sam), and Zadie to Michael (Madison) David, Andrew and Rebecca. Son of the late Leopold and Elsa, and brother of the late Robert (Henrietta).
Norman was born in Brighton Beach, New York in February 1934. Norm attended PS 253, Abraham Lincoln High School and Brooklyn College. Growing up in Brighton Beach, Norm had a wonderful childhood, spending time with his family, swimming in the ocean and playing stickball on the street with his friends. Norm was fortunate enough to have both his street friends and his school friends, all of whom he cherished. Baseball was his passion and he was a diehard Brooklyn Dodgers fan.
Education was very important to Norm. He received his Bachelor's degree in Science, a Masters in Arts and after moving the family to Madison, Wisconsin in the late sixties for two years, he received his PhD in Education Administration.
Norm joined the US Army in 1955, where he served until 1957, stationed at Fort Lewis Washington – 50 miles south of Seattle. He and a few other Jewish men in his outfit would spend weekends in Seattle, with considerable time at the JCC, meeting girls. In 1957, shortly before his army discharge, Norm went to an event at the JCC where he met a lovely Jewish woman. Upon returning to his friends that evening, Norm would recount, "I think I just met the girl I am going to marry."
Norman and Toba married in Winnipeg in 1958, but settled in New York for 18 months where they welcomed their first baby girl, Pamela. In 1961, they re-settled in Winnipeg and had their second daughter, Rhonda. Norm and Toba spent the next 40 years in Winnipeg. Norm worked his way up in education from a math teacher, to a Vice Principal at the Seven Oaks School Division, eventually becoming Superintendent.
Norm was active in his community in Winnipeg, serving on the Boards of the Rosh Pina Synagogue, the Seven Oaks Hospital, The Children's Rehab Centre, and the Manitoba Association of School Superintendents. He even took a stab at a political career, running as both an MLA and MP.
After Norm retired from the school division he and Toba moved to Florida, where he tried his hand at a few more careers… financial planner, H&R Block tax specialist, and 'almost' real estate agent. In Norm fashion, he was active in his new Florida community, serving as Treasurer of the Ponte Vecchio West Board and driving the cop car to ensure neighborhood safety.
Norm was a highly organized administrator and an accomplished mathematician. His administrative skills were put to good use in both his work and personal lives.
Once, when planning a family trip to Europe, his daughters describe the military-like precision with which they toured various cities – spending the exact amount of time at each location as his schedule allowed. Half a day is really not enough time to see the entire city of Rome, but for Norm, planning and keeping to a schedule was just as good as the site itself.
Norm's greatest joy in life was his family, and in his retirement, that joy was his grandchildren. Spending time with them was important to Norm, and he took every opportunity to take part in their lives; attending parent-teacher conferences, taking the entire family on vacations, dropping grandchildren off at college, and attending graduation ceremonies in Florida and Toronto. Although not the quickest to show emotion, Norm did not let a few days go by without his classic line "Zadie loves you very much".
The last few years were hard for Norm and his family, as his memories became more and more fleeting, but they all took comfort in knowing how much he loved them all.
t'hay nafsho tzrurah b'tzror hachaim
May his soul be bound up in the bond of eternal life
In Norm's memory, donations can be made to the Jewish National Fund's (JNF) plant a tree in Israel campaign.