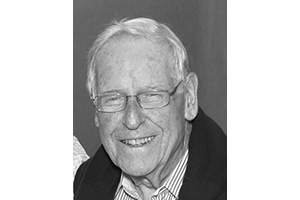 Easton Irving Lexier was born May 8, 1926, the first child for Jack and Lena Lexier of Winnipeg. Born sickly, baby Lexier received a blood transfusion – a radical treatment at the time – that saved his young life and allowed him to thrive for a full 93 years.
Easton grew up along with his younger sister, Helen May, in the north end of Winnipeg where Easton would meet his life-long friends, as well as his wife Debby (Deborah). He had many fond memories of his childhood, even though he grew up during the Depression.
He started elementary school at Isbister School, before moving over to Champlain School in Grade 4. It was there that he eventually became Crossing Patrol Captain at Champlain, one of the first schools in Winnipeg to adopt the patrol program.
Easton moved to Machray School for Junior High School before moving onto the famed St. Johns Tech for high school where he fondly remembered great teachers and lots of good times. During this time, The Triple E club was formed at the YMHA of which Easton was a founding member. The Entirely Eminent Esquires chummed around and produced dinners and dances; along with help from some of the girls' clubs at the time. These members became and remained life-long friends.
With the end of the Second World War in June 1945, Easton's May call-up on his 19th birthday was no longer required. In the fall of 1945 Easton pursued an Engineering degree at the University of Manitoba at the old Osborne Street Campus, graduating in May 1948 with a Bachelor of Science in Civil Engineering degree.
Easton joined his cousin Cecil Blankstein at one of the only Jewish architectural firms in Winnipeg, Green Blankstein Russell Architects (GBR), as one of their first full-time Structural Engineers. Easton would spend 50 continuous years in service to GBR Architects and Engineers spending the last 20 plus as managing partner. While at GBR he would be involved in scores of projects around the country and outside, including many of Winnipeg's iconic structures, such as City Hall, the old Airport, and the Asper Jewish Community Campus. He took great pride in his professional achievements and his long-standing commitment to Manitoba's architectural legacy.
Easton became politically active in the 1960s when he became involved in the campaigns of Mailtan B. Steinkopf, a man of substance and integrity, and someone Easton greatly admired. He went on to actively campaign for other Conservative Party candidates, Bud Sherman and Sidney Spivack.
Firmly committed to public safety in the design and construction of public and private buildings, Easton contributed his expertise to the Winnipeg Building Commission, first serving as a member and then as Chair. At the national level, he went on to serve for over two decades on the Canadian Commission on Building and Fire Codes in various capacities, including as Chair.
Easton was a strong contributor to the Jewish community as well.
Easton enjoyed the camaraderie at the old All-Jewish Maple Leaf Curling Club, ultimately acting as President until the club closed their building in the early 1970s.
The Lexiers were a founding family of the Shaarey Zedek Synagogue. Easton served in numerous capacities, including President of the congregation in the late 1980s. He remained a member of the Building Committee for many years.
He invested a lot of his time and efforts into the community. This sense of duty, and model behaviour, greatly inspired his children to make volunteerism, advocacy, and political action part of their ethos. It was partly as a result of this, that in 1997 a scholarship was created in his name at the University of Manitoba to financially support Engineering students who demonstrate these traits.
He was a great support to his wife of 68 years, Debby. Together they raised three children, travelled, entertained, enjoyed their grandchildren, and produced their multi award-winning garden at 690 Lanark, at the home they built together and treasured for over 60 years.
Predeceased by his parents, Jack and Lena, as well as his dear sister Helen May, Easton leaves his wife Debby, daughter Jill Lexier (Neil Samuels), sons, Jonathan (Paula) Lexier and Micah Lexier (Guy Anderson), grandchildren, Josh Lexier, Suzanne Lexier and Lex Samuels, as well as some 50 nieces and nephews.
He led a full and productive life to be celebrated, and he will be missed.
In lieu of flowers, tributes can be made to the Easton I. Lexier Award for Community Leadership at the University of Manitoba.