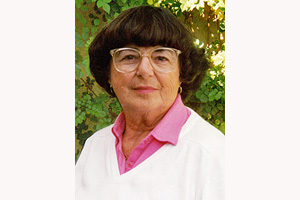 A remarkable journey spanning 103 years ended on July 16, 2021, with the passing of Esther Remis. Esther was predeceased by her husband, Leonard (Lanny) Remis, in 2007, after 67 years of marriage.
She is survived by her children, Paul (Maureen), Carla (Ken), and Joel (Susan), nine grandchildren, and 14 great-grandchildren.
The journey began on June 15, 1918, when Esther was born, the middle child in what would be a family of 12 brothers and sisters. She grew up in Emerson and Winnipeg, and came of age during the Great Depression.
In 1940, she married Lanny, the love of her life. Lanny had enlisted in 1939, and the war years took them across Canada, before they returned to build a home in Winnipeg. For Esther, family was always at the centre of her universe, as a daughter, sister, wife, mother, grandmother, great-grandmother, and as an aunt to 33 nieces and nephews.
Esther remained close to all her siblings, and enjoyed nothing better than family simchas with her brothers and sisters in attendance. Esther was the last remaining member of that Shnier clan. She was also predeceased by Lanny's brother and sister and their spouses, Bernie and Elaine Remis, and Gloria and Roy Brown.
Esther loved to laugh and play tricks. If something was fun, then she needed to share it with family and friends. The more the merrier. She and Lanny travelled extensively, with summers spent at Falcon Lake and winters in Palm Springs, with many trips to more distant locations in between.
Her creative talents were many. Her sculptures, paintings and needlepoint decorated her house. Esther's athletic passion was golf. With Lanny, she travelled worldwide with their clubs. And she remained an avid golfer into her nineties.
Funeral service was held on July 19 at the Shaarey Zedek Cemetery. Pallbearers were Michael Remis, Jonathan Remis, Ben Goldstein, Lauren Goldstein, Adam Rosner, and Gary Shnier.
The family would like to extend their heartfelt thanks to Esther's caregivers, Fe, Sally, Lucilla, Mary Ann, and Tesvita. Their care and attention to her well-being was exemplary. And special thanks to Jan, the nurse at the Shaftesbury.
Donations in Esther's memory may be made to the National Council of Jewish Women, Winnipeg Section, The Jewish Foundation of Manitoba, or to a charity of your choice.
When we remember Esther, we'll always think of the last two lines of one of her favourite poems:
And then my heart with pleasure fills,
And dances with the daffodils.