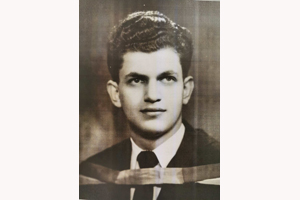 With great sadness we announce that Alvin Shinoff passed away on Tuesday, July 27, 2021.
Alvin was born in Yorkton, Saskatchewan on July 14, 1924, the son of Rose and William Shinoff, and the brother of Evelyn Winston.
Alvin practiced dentistry in Winnipeg for 54 years. He married his wife, Shirley Shinoff, on July 21, 1947.
Alvin loved his wife; children, Loree and Daniel (Michelle); grandchildren, Anthony, William (Stephanie), Joshua (Allison), Aaron (Karina), and Jacob; and great-grandchildren, Wesley, Greyson, Millie and Adriana, all with great devotion.
Alvin was a member of the Shaarey Zedek Synagogue, Glendale Club and Maple Leaf Curling Club. He enjoyed his family and life with devotion and passion.
We were honored by his pallbearers: Anthony Cooper, Nancy Febril, Ruth Carol Feldman, Dr. Phyllis Bedder, Phyllis Portnoy, and Jon Blumberg.