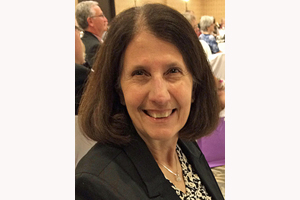 It is with great sadness that we announce the passing of our beautiful Mother and Baba Shirley Kozlowich at the age of 72. With family by her side, Shirley peacefully passed away on July 18th, 2021.
Shirley will be lovingly remembered by her children, Shane Kozlowich (Carly Shuler), Tara Kozlowich (Paul Shur), her grandchildren that she adored, Samara Shur, Paula Kozlowich, Bailee Shur and Sam Kozlowich, her sisters Fae Simon (Carl Findlay), Nancy Scheiman (Neil Stern), and Zahava Scheiman-Burkhardt (Klaus Scheiman-Burkhardt), her nephew Ari Simon, her niece Mariah Clarke (Kristian Clarke), her grandniece Sienna Clarke and many close relatives and friends.
Shirley was born on March 8th, 1949 in Stockholm, Sweden to Bella Scheiman (nee Knacker) and Moshe Scheiman. The family moved to Winnipeg in 1952 and settled in the North End where Shirley attended Peretz School, Luxton School and St John's High School. As the oldest child, Shirley often looked after her sisters, enjoyed playing with them and remained close to them for the rest of her life. Shirley made many close friends in these early years and these deep friendships also continued for the rest of her life. While attending St. John's, Shirley met her beloved Sam. They were married in 1970 and enjoyed 28 years of laughing, understanding and joy until Sam passed away in 1998.
Shirley attended the University of Manitoba where she studied Education and then taught Grades 2 and 3 at Champlain School. After some time away from teaching while Shane and Tara were in elementary school, Shirley returned to teaching at Miles Macdonell Collegiate where she taught for the rest of her career. She was so proud of her students that had immigrated to Canada much as she had and found great joy in inspiring her students through her teaching. She loved running into her students where they would often approach her to say thank you for helping them in their early days in Canada. Shirley especially loved teaching at the same school as Sam and with the life-long friends she made there.
Shirley retired in 2013 following which she continued to enjoy doing crosswords and reading in the sun, but mainly she spent every minute she could with her grandchildren. Her love for them was always on display, whether buying them treats at the vending machine, being first in line at their various concerts, sports events, dance recitals, or simply playing silly games with them on the floor. Shirley was her family's biggest cheerleader and she encouraged and supported her children and grandchildren with kindness and patience. Shirley's life was focussed on the lives of her grandchildren, much as her life was focussed on the lives of Shane and Tara when they were younger. Shirley's children and grandchildren knew what it meant to be so loved and that feeling will forever be missed but also lovingly remembered.
Shirley was predeceased by her parents Bella and Moshe, and by Sam Kozlowich, her high school sweetheart and husband.
Funeral services were held at the Shaarey Zedek Cemetery. Special thanks to Cantor Tracy Kasner, a dear friend of Shane and Tara's for her beautiful eulogy and support during this difficult time. Memorial donations may be made to the Shirley Kozlowich Memorial Fund at the Jewish Foundation of Manitoba.