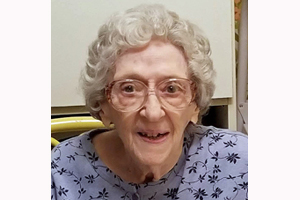 Evelyn "Scotty" Moglove of Oak Street, Winnipeg, née Mozersky, died Wednesday, May 26th, 2021 at age 98.
Evelyn was born in Winnipeg to Hinda and Hershel Mozersky. She married Harold "Muggy" Moglove in 1942 and they were married almost 65 wonderful years until Harold's death in 2007.
Evelyn was also predeceased by her parents; her brothers Meyer, Solly and Ralph Mozersky; sisters Rae Collerman and Shona Koster; son-in-law Dr. Joseph Springut, and daughter-in-law Karen Moglove.
Mum is survived by children Honey Sue Springut and Floyd Moglove; her grandchildren Joel and Alan Markovits, and Sean and Arleigh Moglove; her great-granddaughter Lucia Markovits; and many nieces and nephews.
Mum was a homemaker and a Balabosta. Most important to her were her husband and children.