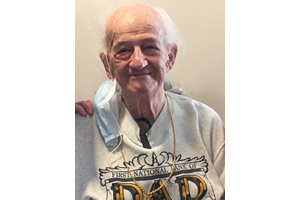 Passed away on June 23rd, 2021. A graveside funeral took place at the Shaarey Zedek Cemetery.
Barrie passed away quietly, quickly, and unassuming. He leaves behind, His wife Maureen of 58 years. Daughter Rochelle Fielding, Granddaughters Zoe and Cheyanne. Sister to Ruth Kettner. Uncle Barrie to numerous nieces and nephews. Predeceased by his sisters Ethel Scharfstein and Edna Stearns. Barrie was a devoted husband, father, grandfather. Family was everything to him. Barrie valued the many friendships that he and Maureen enjoyed on Jack Donner Drive. He was the ultimate philanthropist, giving of his time and always sharing what he could. He was a collector of memorabilia, and antiquities.
Barrie was a kind man, a generous man, and a man with a big heart. Thank you to Stephen Hyman and the staff at the Simkin Centre.
Donations in memory of Barrie can be made to the Simkin Centre.