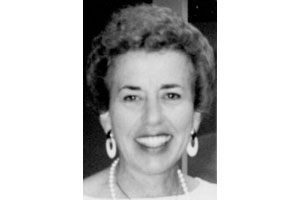 With great sadness, we announce the passing of Gladys Kimelman on Saturday, September 25, 2021, at the age of 92.
Gladys was predeceased by her loving husband Harvey. She will be sadly and lovingly missed by her children Doug (Marsha), Barry, and David (Gary), and by her grandchildren Josh (Ashley-Anne) and Sam, as well as her extended family and many friends.
Glady was a force of nature, who loved life and enjoyed it to the fullest. She was blessed with 92 years of a life that was rich in family, Jewish culture and holiday gatherings, as well as an enduring tight-knit group of close friends and bridge enthusiasts spanning seven decades. She took extreme joy and pride in her grandchildren, taking in every sport activity, school event and life celebration.
Glady was born in Brandon, Manitoba, on November 4th, 1928. She moved to Winnipeg at the age of 22, where she met Harvey, her adoring husband of 60 years. Together Glady and Harvey made a home, rich in Jewish culture, where they raised three sons. When David, the youngest, went to school, Glady embarked on her career as a paralegal, at which she excelled until her retirement. Every summer was spent at Clear Lake with the boys (and the family dog), as Harvey commuted out for weekends. Life at the lake with no electricity or running water was no doubt a lot of work for Glady, but she reveled in it, and the summers were filled with the beach and fun and laughter, often to the point of tears, leaving the family with a lifetime of wonderful memories.
Glady was the perfect complement to Harvey, and in their retirement years, they loved travelling together in their camper-trailer to every corner of the continent. After Harvey's passing, Glady continued daily hikes in the park with her golden retrievers, as well as pet therapy visits to local hospitals and homes for the elderly. Barely slowing down in her later years, she maintained her own home, went out every day in her minivan to do shopping and errands, visited friends, and played bridge regularly, right up until the last week of her 92 years. Upon hearing of her passing, a close family friend said "I'm glad she didn't have to be old for long."
We are so sad to lose her, but so grateful for the blessing of her long full life — one she led with humility and grace.
Sincere thanks to Dr. Wilson for years of excellent care, and to Dr. Meredith, Dr. Schneider, and the staff at Seven Oaks Hospital for compassionate care in her final hours.
Thank you also to Cantor Tracy Kasner for conducting the graveside service, and for a lovely eulogy. Pallbearers were: Josh Kimelman, Sam Kimelman, Neil Kimelman, Jared Marr, Ron Worb, and Sid Hochman.
Donations in memory of Gladys may be made to Gwen Secter Creative Living Centre, 1588 Main Street, Winnipeg.