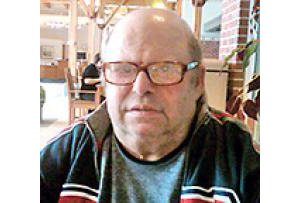 Harold was born in Winnipeg on July 30, 1951 and passed away on February 12, 2021, at the age of 69.
Harold was a great guy with wit and a sense of humour. Although he had many life challenges, he took things in stride. He cared for others deeply and he was loved by many. Still waters ran deep. He enjoyed science fiction, especially Star Trek and other series from the 60s. He had excellent mechanical knowledge and understood how things worked.
Music was his passion and he was often shopping for music for himself and others and people remember him with headphones glued to his ears.
His musical knowledge, mostly rock and roll, but varied, was encyclopedic: he could swiftly tell you, who produced the album, the year, the accompanying musicians, and other historical details.
He had a driver's license but had to surrender it in his early 20s when he began to have problems with his vision. He traversed the whole city by bus (schedules he knew and trusted) and handi-transit (somewhat more sporadic, but enjoyed many of the drivers).
Harold was very saddened by the sudden passing of our brother, Mark in 1998, as he had been a good friend as well as support for Mark during his life.
When he was no longer able care for himself, he spent his last years at the Simkin Centre and Riverview Health Centre. He always seemed to rise above every new health issue that took hold of his body. On his final day, he was sharing music with his friend Chris. Many have said of Harold that they always got more than they ever gave to Harold.
He is survived by his siblings, Rochelle (Ed) of Prescott, Arizona, Nancy (Laurie), Gail, of Winnipeg, and Earl (Linda) of Vancouver; and nieces and nephew, Katie, Carly, Anna, and Alex. He was predeceased by his brother Mark (1998), mother Marion (1999), father Sol (2020), and brother-in-law Al (2009).
His funeral took place at the B'nay Abraham Cemetery on February 15, 2021 and Rabbi Kliel Rose officiated.
If you wish, you may make a donation in Harold's memory to the Riverview Foundation or Canadian Magen David Adom.