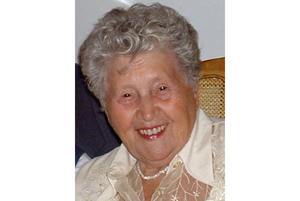 With deep sadness we announce the passing of Betty Warshawsky on April 1st, 2021 at the age of "100 plus".
Betty was born in 1917 in Kiselin, Poland. While under Soviet occupation, her family refused to leave their home, but Betty escaped and began her journey – first to Russia and later to Uzbekistan where she met her husband Hersz (Hershel).
After the war they returned to Europe, determined to reach Palestine; they finally arrived and Hersz enlisted and fought in the War of Independence. Her brother, Sam Pomarantz Z"L , the only other surviving family member (parents: Joseph David Pomeranc and Rochel Waze, siblings: Kuni, Areyeh, Herszel, Gershon, Avraham, Szprinca and Esther) welcomed her to Winnipeg in 1950. Betty continued her teaching career in Winnipeg at I.L. Peretz Folk School until her retirement in 1984. She was honoured and humbled when students continued to visit over the years. She would amaze everyone and herself equally when she recognized them, and identified them by their Yiddish names.
Betty was highly respected and deeply cherished by her family and all that knew her. It was heartwarming to be in her presence, as she exuded warmth and compassion to everyone. Betty's optimism was a driving force for how she lived her life: without regrets, which inspired her family to follow in her footsteps. She enjoyed spending time with her family, traveling, listening to Jewish music and spoke eight different languages. She had a great sense of humour, a smile that lit up the room, and an enduring positivity that set an example for us all. The world was a better place with her in it.
Betty shared that her secret to longevity was living a life of happiness and kindness. Her father's farewell blessing, "anywhere and everywhere you go people should like you – you should be well liked" was fulfilled by Betty tenfold through her generosity and charisma. She lived her life in honour of all those that perished – lest we forget.
Despite the limitations and restrictions of the pandemic, Betty became an avid FaceTimer with weekly scheduled calls with many members of her extended family. FaceTime gave Betty the opportunity to continue the special bonds she had with her family residing throughout Canada, United States and as far away as Switzerland.
Betty was predeceased by her beloved Herszel Z'L (2005). Their memories will continue to live in the hearts of their family: daughters Rochelle (David Glass), Valerie (Ian Leibl); grandchildren Colin, Kimberley (Chris), Shaylene (Trevor), Ari (Siuleen), Melissa (Mike); and great-grandchildren Sydney and Ethan Shapiro, Jackson, Hudson and Maeli Smith, Kindred and Sincerity Leibl, Hersh and Dov Halparin.
The family would like to extend their appreciation and gratitude to Dr. Claire Jaegar (Betty's former student), the staff and residents of Shaftesbury Park Retirement Residence, and her Homecare friends.
Memorial donations may be made to The Jewish Foundation of Manitoba Endowment Fund or a charity of your choice.