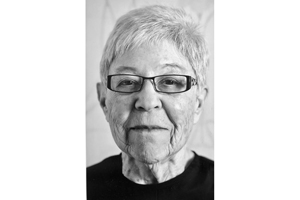 After a prolonged period of poor health, Mindel (Rady) Olenick passed away at home in Winnipeg, Manitoba on Monday, March 29, 2021, at the age of 96.
She is survived by: her daughters and sons-in-law Gail and Arne Wagner of Piedmont, CA, Debby and Brian Hirsch of Winnipeg, and Roberta Olenick of Vancouver; her grandchildren Laura Wagner (Seth LeJacq), Moshe (Chani) Hirsch and Aron Hirsch; and her six great-grandchildren. She is also survived by: her sister Marjorie Blankstein, her brother Ernest (Evelyn) Rady, her sister-in-law Bess Plosker; and numerous nieces, nephews, cousins and friends in Winnipeg, Toronto, Hamilton, Vancouver, San Diego and Hawaii. She was predeceased in 2007 by her beloved spouse of almost 60 years, Tom. She was also predeceased by: her parents Rose and Max Rady; her parents-in-law Anna and Zalman Olenick; and her brothers-in-law and sister-in-law Morley Blankstein, Eva and Max Natch, Edel Direnfeld and Max Plosker.
Mindel was born in Winnipeg on October 8, 1924, the oldest child of Rose and Max Rady. She had a brilliant mind and excelled at school. She graduated from Kelvin High at the top of her class and was school valedictorian. She earned a Bachelor of Science degree at the University of Manitoba followed by a year of work in microbiology at the Banting Institute in Toronto. She returned to Winnipeg where, on June 11, 1947, she married Tom Olenick, who had proposed to her a few years earlier on their very first date.
The most important things to Mindel were her husband and three daughters and then later on, her sons-in-law, grandchildren and great-grandchildren as well. She always wanted for them whatever they truly wanted for themselves and selflessly supported them in whatever way she could. Without ever expecting or wanting anything in return, she was always there in every way, not only for her immediate family, but also for her extended family and friends. She was much loved by everyone for her wisdom and her warmth.
Through both word and especially deed, Mindel taught her children the importance of compassion and empathy. She was always able to see things from the perspective of others and thus treated everyone with kindness and respect. She exemplified diligence, honesty, integrity, trustworthiness, reliability and above all, keeping your word. If she said she would do something, you could count on her to do it without fail.
Characteristic of Mindel was her unwavering positive outlook on life. She was truly content with herself and her circumstances. More than once she said, "I know people who keep wishing they were younger than they are. Not me – I have always liked whatever age I am right now." (Though in her early 90s she did admit to wishing to be 85 again because she was still able to drive then.) She always looked for the best in any situation and believed that things would work out. If not, she knew she could handle it. With her calm confidence and clear perspective, she was unflappable!
Mindel was a generous supporter of a wide variety of causes including: Israel and the Jewish community, medical research and education, and environmental issues. She funded the first hospital building of her daughter Gail's project providing medical care in rural Kenya.
Mindel Olenick was truly an exceptional person. Her passing has left a void in the lives of all those she touched. She will be sadly missed and lovingly remembered.
The family expresses heartfelt thanks to the team from HomeInstead for their tireless, loving care of Mindel, making it possible for her to remain at home until her very last day. We extend particular thanks to those who were with her the longest: Edna, Rosemarie, Jessielyn and Dolores.
A private graveside service was held on March 31, 2021 at Shaarey Zedek Cemetery with Rabbi Kliel Rose officiating. Pallbearers were: Brian Hirsch, Sydney O'Bray and David Salita. Pallbearers in absentia (due to Covid) were: Arne Wagner, Laura Wagner, Moshe Hirsch, Aron Hirsch, Alan Direnfeld, Gary Direnfeld and Donald Rady. Honorary pallbearers were: Marjorie Blankstein, Ernest and Evelyn Rady, Bess Plosker, Bryan Natch, Barry Tessler, Arlene Wall, Gloria Mendelson and Milton and Brenda Tenenbein.
Donations in Mindel's memory can be made to Technion Canada (Suite 206-970 Lawrence Avenue West, Toronto, ON M6A 3B6, Tel 416-789-4545) or to a charity of your choice.