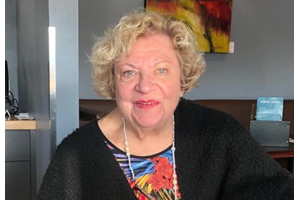 June 13, 1937- March 13, 2021 at the age of 83
It is with deep sadness that our family announces the passing of our beautiful mama Lois Ackerman, at her home, surrounded by her children and grand-children.
Lois was predeceased by her loving husband Sidney Ackerman, mother Gertie, and father Edward Winestock. Lois leaves behind to cherish her memory her three gems, Ron, Karen (Jerry) and Ruth (Tom). Lois will be greatly missed by her grandchildren, Milan, Jared, Cassie (Yona), Evan, Dustin, Tanner and Aidan. Lois also leaves to mourn her loving sister Elaine Goldberg (Sy), brother Earl Winestock (Penny), and brother-in-law Harvey Ackerman. Lois will be remembered by her extremely close relationship with all her extended family and friends.
Graveside funeral service was held March 15, 2021 at Shaarey Zedek Cemetery, officiated by Rabbi Mass. Pallbearers were Milan and Jared Ackerman, Evan and Dustin Roitelman, Tanner and Aidan Dickie.
Many thanks to the doctors and nurses at CancerCare Manitoba, Palliative Care and Homecare. Appreciation is also extended to Rabbi Leibl and Rabbi Mass.
Mom was an exceptional lady who had a special relationship with each of her children and grandchildren. Mom was known for her non-judgemental ways, her compassion, open door policy and loving kindness. She also had the best hugs in the world!
Mom didn't let cancer rule the past five years of her life. She lived life to the fullest.
In lieu of flowers, donations can be made to CancerCare Manitoba or charity of your choice.
Love you more!