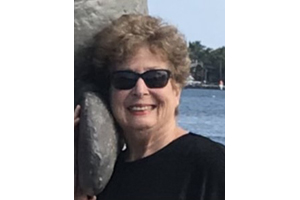 With incredible sadness, we announce the sudden and tragic loss of Jackie Gorenstein, on Saturday, March 13, 2021.
Jackie was born on May 17, 1940, in Winnipeg, MB. She grew up on McAdam Avenue, surrounded by family, friends and a very close-knit community.
Jackie was blessed with a full and precious life. She was fiercely proud of her career as a fundraiser, and spent many years volunteering, after her retirement.
Her favourite activities were playing bridge and mahj with her many, many friends, planning menus and hosting a never-ending array of dinner parties, as well as playing cards with her grandchildren, of whom she was so proud.
Jackie loved her synagogue in Ottawa (Kehillat Beit Israel), where she was a member for many years, as well as her "winter shul", B'nai Torah, in Boca Raton, Florida. Her faith and her family were the most cherished aspects of her life.
Jackie was known for her warmth and kindness, generosity of spirit, and love of life. She could always be counted on for a smile, a willingness to help in any situation, an apple crisp, "nothings", or mandelbroit (Jewish biscotti).
Jackie leaves behind Burt, her devoted husband of over 60 years, her loving children Alan, Karen and Joanne, the apples-of-her-eye – her grandchildren Daniel, Ehryn, Carter and Sacha, as well as her brother Gary Hyman (Miriam Corne) and her sister-in-law Libby Gillman (Garry), and many nieces, nephews, and cousins.
In Jackie's memory, we would appreciate donations made to either the Ottawa Kosher Food Bank, or the Ottawa Jewish Community School.
Jackie was suddenly taken from us way too soon. It is a tragic loss that she will not be able to share in her grandchildren's future goals and dreams. She was an incredibly special woman, mother and grandmother and will be lovingly remembered and always missed.