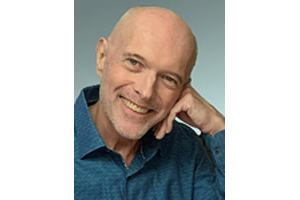 Embraced in the love of his partner and children, John Statham passed away in the early hours of Wednesday, February 2, 2022 at the age of 71. He had received a diagnosis of pancreatic cancer on July 7, 2021 and died naturally of his illness at the home of his partner Richard, where he had lived since beginning treatment in August, 2021. His life ended as he had lived it, with calm and dignity.
John was the cherished partner of Richard Yaffe for over twenty-two years, the much loved father of Anthony Statham (Alaina) and Alexandra Bolton, and the adored and adoring grandpa of Oliver Statham and Theo Statham. He is also survived by his sisters Margaret Stewart, Frances Statham (Esther Phillips) and Claire LeBane (Jeff), his brother Robert Statham, his nieces and nephews, and his children's mother Anne Bolton. He was predeceased by his parents Arthur and Judith Statham.
John Arthur Michael Statham was born in Longueuil, Quebec on October 14, 1950. Following the untimely death of his father when John was 8 years old, the family moved to Winnipeg in 1959. John graduated from the University of Manitoba with a Bachelor of Fine Arts (Honours) in 1975. While living in London, England and Pau, France with his wife Anne from 1977 to 1980, he attended the City of London Polytechnic and The City Literary Institute (London) where he studied French language and literature, and then Université de Pau et des Pays de l'Adour from which he received a diploma following studies in French language and literature, history and translation. After returning to Winnipeg, he served as the Interpretation Section Head of Translation Services for the Province of Manitoba for over 27 years, earning a reputation among the judiciary, lawyers and members of the legislature for his work ethic and for his diligence and precision in French/English interpretation and translation.
It was his art, though, that gave true meaning to John's life. His remarkable talent in painting and drawing was evident at an early age, and was recognized by mentors who guided him and facilitated his admission to the School of Art at the University of Manitoba and then his life as a visual artist. He maintained studios both in his home and downtown in the Exchange District, and more recently at the Clearwater Bay cottage he shared with Richard. John had the ability to decipher beauty and significance in the ordinary and even the mundane, and with great sensitivity and meticulous technique he created paintings and drawings, often based on the simplest subject matter, that uncovered hidden radiance and revealed concealed harmony. He believed in the purity of art as an expression of beauty.
John had been considering conversion to Judaism for many years. He identified with Jewish values and the Jewish approach to ethics. It was the concept of tikkun olam in particular that resonated, and its goal of repairing the world through the pursuit of social justice with acts of kindness, particularly for the benefit of those without a voice. Under the guidance of Rabbi Anibal Mass, John completed his conversion to Judaism eight weeks before his death. He had the privilege of choosing his Jewish name and decided on the name Yochanan Uri, which connotes grace and light – both integral to the man he was. John and Richard had planned to be married following his conversion to Judaism, but sadly the progression of his illness precluded that.
John's life was defined by kindness, generosity and authenticity. He was a quiet, keen listener and when he spoke he did so with measured and thoughtful consideration. Although introspective and a deep thinker, he was possessed of a lovable, dry wit. He was an avid reader in both English and French, and a perceptive observer of people and the human condition. While self-promotion was abhorrent to him, he was an ardent supporter of those he loved and in whom he believed. He was a loyal friend, and those in John's inner circle were the fortunate recipients not only of his wise counsel but also of his masterful baking.
John's funeral service was held at the Shaarey Zedek Synagogue at 12:00 noon on Friday, February 4, 2022, officiated by Rabbi Anibal Mass. Eulogies were delivered by John's children, his partner, and his friend Tom Lovatt. Pallbearers were Clifford Yaffe, Mariam Bernstein, Sarah Kredentser, Saul Simmonds, Eric Vickar and Shawn Yaffe. Honorary pallbearers were James Anning, Donald Pearen, Tom Lovatt and Bette Woodland. John was laid to rest at the Shaarey Zedek Cemetery. The funeral service may be viewed on YouTube (SZ Winnipeg).
We wish to express our gratitude to Drs. Benjamin Goldenberg and Paul Daeninck and their nurses Cindy and Melanie, and to the chemotherapy nurses at CancerCare (MacCharles), all of whom treated John with the kindness and respect he deserved.
We are deeply grateful for the many cards and donations already received in tribute to John. Those still desiring to honour John's memory may wish to consider a donation to a fund being established in John's and Richard's names at the Jewish Foundation of Manitoba, or a charity of choice.