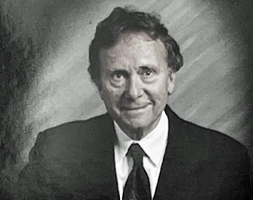 Martin Corne, beloved husband, father, brother, Zaida and uncle to both family and friends, passed in the night of March 22, 2022. Forever in the loving memory of his wife Gail; daughter Lisa Corne and her husband Michael Klein, and their children Max and Klein; son Ian Corne and his wife Janet Bright Corne, and their children Hugh and Sadie.
Martin was born and raised in River Heights, Winnipeg, where he resided for 87 of his 88 years. Growing up in River Heights he attended all the usual River Heights schools, including Lorraine Froggley's nursery and kindergarten. He met the love of his life Gail at age 17, and serenaded her by playing her favourite tunes on the piano through the bedroom window whenever she visited family next door. Martin and Gail were the model of devotion and tenderness for 70 years.
He studied Law at the University of Manitoba, where he was later invited to join the faculty as a sessional instructor. He also enjoyed many years teaching for the Canadian Bankers Association, as well as the Manitoba Bar admission course. Martin practiced Law with his brother Alvin and their Uncle H.I., under the family firm name Corne & Corne. He was a general practitioner and well respected opponent in the court room. His clients became more like friends, often referring to him as Uncle Marty. Martin received the honour of being named a Queen's Counsel in 1977.
In addition to being an outstanding lawyer, Martin possessed innumerable creative virtues, including playing piano, commanding a stage, and entertaining storytelling skills— his creativity was at the core of his personality. Having acted in multiple Manitoba Bar Association productions such as One Flew Over the Cuckoo's Nest, Fiddler on the Roof, Guys and Dolls, and the lead role in Twelve Angry Jurors, he was invited by the Manitoba Theatre Centre to perform in the main stage production of Our Town.
Above all, family was Martin's highest priority. Family celebrations and vacations were his favourite times, where everyone got together to enjoy each other's company. Enjoying summers at Falcon Lake with family and friends was Heaven on Earth to him, and he often referred to it as Gan Eden.
His legacy will continue as it did during his life, through the many stories told by all he cared for, and who cared for him.