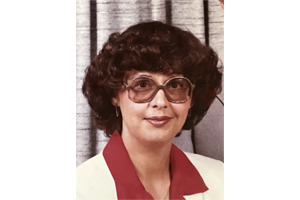 With deep sorrow and regret, the family of Katherine Mary Greenblat mourns her passing on September, 2, 2021 – one month shy of her 80th birthday.
Katherine passed away peacefully in her sleep at her residence. She leaves behind her devoted husband and soulmate of 56 loving years, Cecil Greenblat; her three children, Cynthia, Harry, and Lenard Greenblat; and granddaughter Madeleine – Harry's daughter.
Katherine loved her family dearly and devoted her life to being a nurturing and supportive wife and mother. She was also a great mentor. She taught her children to have good ethics and morals and treat all people with kindness and honesty.
Katherine was born on October 12th, 1941 in Atikokan, Ontario. She came from a large family of eight siblings. Katherine's surviving five siblings are: Helen Watson, who also lives in Winnipeg and with whom Katherine shared a very special bond together; Shirley and husband Chris Lachance; brother Gary and wife Diane Demchuck; Doreen Banks; and Elsie Demchuck. Katherine also leaves behind her sister-in-law, Anne Gardner, and family. As well, Katherine is survived by her childhood best friend, Jeannette and her husband, Ivan Geogison. Katherine loved them like family.
Katherine was predeceased by her parents, Anne and George Demchuck, her sister Vera and husband Bob Sutch, and her youngest brother, Bobby, who died at age 16. As a young girl, Katherine took Bobby under her wing and loved him dearly. Bobby's passing was a huge lifelong loss for Katherine and anytime she spoke of him she would cry.
Katherine was also predeceased by her sister-in-law and brother-in-law Eva and Tony Obornick. Their surviving children are: Laura and husband Jerry, Jeffrey, and Howard Obornick, and Susan and Brian Sherwood. Katherine was also predeceased by her in-laws, Harry and Luba Greenblat, and by her brother-in-law, Al Greenblat.
Katherine completed Grade 13 at Atikokan High School. Katherine had many interests as a young girl that continued into her adulthood. Her hobbies included baking, sewing, and reading. Katherine also loved children and was a devout believer in G-d. As a young girl, she taught Bible classes to children in her community.
Katherine met her husband, Cecil Greenblat, when she moved to Winnipeg when she was 21 and married at age 23.
In Winnipeg, Katherine worked in various places. She worked as a secretary at Beaver Lumber and at a dental office, also at Gambles. Later on she worked as a nursery teacher at the YMHA, where she was loved by all the children and very respected by the parents.
The one word that describes Katherine is a "Tzadika", a very righteous women with a heart of gold.
Anyone who knew Kathy was touched by her kindness, warmth and generosity. She was a very wise and understanding woman who went above and beyond to help people and animals. She gave generously to many charitable organizations, such as: the CJA, the homeless, the Siloam Mission, the Harvester, the Cancer Society , the Heart and Stroke Foundation, the Arthritis Society, and the CNIB.
As a great animal lover, Katherine had many cats and dogs throughout her married life, whom she loved and adored. She also donated to animal rescue groups, such as the Wild Animal Foundation, the Winnipeg Humane Society, and PETA. Kathy was a very special person, not only giving monetary donations, but going out of her way and using her special talents cooking and baking gourmet foods for seniors, widows, the less fortunate, also monthly party sandwiches and pastries for the staff at the Winnipeg Humane Society.
Katherine was converted according to Orthodox Jewish law when she was married. She was already a devout believer in G-d and fell in love with Judaism. She was also a very spiritual woman. Katherine kept a kosher household, separating the milk and meat dishes, lighting the Shabbat candles every Friday, going to synagouge for the High Holidays with her family, and sending her children to Jewish religious schools: the Talmud Torah and Joseph Wolinsky Collegiate. Katherine also celebrated all the Jewish holidays and traditions and made all the different foods for each holiday. She loved G-d with all her heart. Katherine was also asked by her Jewish friends at weddings to say the blessing before eating the meal. Katherine and her husband Cecil were also members of Yachad for years, a Jewish club which they loved.
Unfortunately and very sadly, in her later years Katherine developed dementia, which was heartbreaking for her and her family. Katherine was always a strong and positive person and stayed strong right up until the very end.
The Winnipeg Home Care staff who worked with Katherine were always so friendly and provided the absolute best care for her. The family is greatly appreciative to everyone who supported her.
There are not enough words to express how much Katherine is dearly missed by her family. Katherine's passing has left a huge void and emptiness in our hearts and lives. We pray one day we all will meet again in heaven, Gan Eden.
In lieu of flowers, please donate to the charity of your choice.