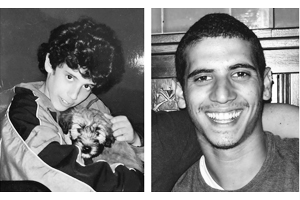 Koby was not your average human.
He was precocious, charismatic, genuine, articulate, caustic, determined. He could be sweet and caring. He could be provocative. He could be sly. As a child, he read early. He watched Fantasia religiously. He was a notorious mouth-open eater and an idiosyncratic toe-walker.
 He began to play classical guitar when he was five years old, swiftly surpassing his father's abilities. His phenomenal vocabulary emerged effortlessly and often baffled his peers. Later, when he studied Criminology at SFU, he would dissect slower students' feeble arguments with ease. He would produce excellent work if he felt like it or subtly infuse an unappealing assignment with derisive humour. On the soccer field, he was a wrecking ball.
He loved his family and friends, and he especially treasured his grandparents, Lawrence and Eddy Werier, who encouraged him to colour outside the lines. When he wanted to accomplish something, however difficult, he found his focus. He claimed his Jewish heritage despite being born into a secular household. He decided that he would have a bar mitzvah and learned how to read the Hebrew alphabet in a week. During later travel in Israel, he felt that he had come home.
Koby kindled a deep relationship with music. He bewitched the bass guitar. He found kinship in artists who circumvent norms, from Tech N9ne to RATM (who he was so excited to see in concert again before Covid-19 hit) to Shuggie Otis to Run the Jewels. He held a deep abiding love for southern hip-hop. His band, Dust, enjoyed significant high school fame. Koby made many deep bonds with musicians of all backgrounds and had an uncanny ability to connect with and support others through music.
Koby was a sage of sorts. He would never mince words or participate in cheap generosity. His caring was raw and true. If he saw that you needed support, he would help, but if you were being overly dramatic, he had no sympathy for that. His challenging words were often an invitation to play or discover truth. In another time period he might have been a lauded orator or philosopher.
People were drawn to him. His presence had an orbit. Koby's charisma was irresistible, and he loved to have a good time. He could get his way so naturally because his magnetism was bound with a respect for others' boundaries. Despite his omnipresent independence, he could make others feel at ease with a caring look or an honest, incisive observation. He said what was needed in the moment, and he expected others to speak honestly to him. He was a secret-keeper for many people and held this position as a sacred trust.
 Koby understood darkness, and it understood him. He experienced trauma from losing several beloved friends to addiction, which hardened him against himself and fueled his own substance abuse. He never recovered from the guilt of believing he was responsible, even though he wasn't. He knew himself so well, and yet he was never able to forgive himself.
 Koby suffered deeply but was too proud to accept help. His identity was bound up in making it without outside support. His web of mental health struggles grew over the years.
 Sometimes when you tie a knot very tightly, you can't untie it again.
Koby's death was an accidental overdose. He was in his small apartment, in the bath. He loved to soak in the tub. He was sick of anxiety and tired of being afraid, but he didn't want to die. He was a suffering guy who did some bad dope. It's ironic that what got Koby in the end was the insidiousness of fentanyl.
It's important to understand that Koby never gave up his honour. He put those close to him through heartache, but he was also very loyal and loving. In his last text to his Mom a few days before he died he told her he loved her. He did that all the time.
He made a point of not implicating others in his actions. He lived fast and with so much heart. He rejected dull moments. Some of his exploits had a legendary quality that only he was capable of generating. Those fortunate enough to be beneficiaries of his gifts in this life know how blessed they are.
He is survived by his mother Jodie Werier, father Michael Shuster, grandparents Lawrence and Eddy Werier, nanny and second mom Augustina (Olive) Johnpierre, Ziggy, the dog that made his eyes itchy, and his extended family of neighbours and friends on the block that he grew up on and beyond.
We don't want flowers. They make us sneeze. Please contribute to a charity that supports mental health and addiction. They go hand in hand. And please take the time to know and love yourself enough that you can live how you want but also have the resolve to care well for yourself.