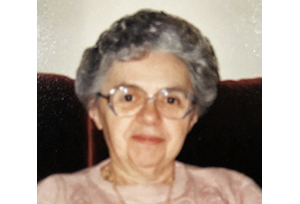 We wish to announce the passing of Clara Wiwierski (Haya Pesia Gurvitz) on April 16, 2020.
She was born in Rovno, Poland on January 1, 1926 to Gavriel and Nehuma Gurvitz. She was the second of four children, sisters Ruchel, Dwora and brother Shlomo.
Predeceased by her parents and sister Ruchel who all perished in the Holocaust she was left with the task of caring and protecting her younger sister and brother when she herself was still an adolescent. With her great strength of character and determination she ensured that the remaining Gurvitz siblings survived the horror of the Shoah.
Near the end of the war she met Morris (Moishe) Wiwierski. In 1946 they married and immigrated to Israel along with Dwora and Shlomo settling in Haifa. In 1949 they had a son named David. In 1951 they immigrated to Canada settling in Winnipeg where Clara had family. Dwora and Shlomo remained in Israel.
In 1959 they had another son Garry.
Morris was a tailor in the garment industry in Winnipeg. Initially Clara was a homemaker. Over the years Morris and Clara saved enough money to buy a corner grocery store in the west end of Winnipeg. Clara would look after the store during the day while Morris worked at Jacob & Crowley garment manufacturers. After many years in the grocery business they sold the store in or around 1974. Morris continued with his employment at Jacob & Crowley while Clara basically retired.
In 1983 Clara and Morris attended the United States Holocaust Museum in Washington DC where they both recorded their experiences during the Holocaust.
In 1995 Morris passed away as a result of long-standing heart disease. Clara lived with her son Garry until 2010 eventually moving to the Simkin Center in 2012 due to health reasons.
She was predeceased by her sister Dwora in 2015 and her brother Shlomo in 2019.
Throughout Clara's life she endured pain, suffering and hardship that most people will never know. Her will to live can be exemplified by the fact she survived the Holocaust having lost both parents, grandparents and a sister; she also lost a newborn baby girl in 1947; had significant medical issues in her later years having survived 2 strokes and the loss of a leg. She was a very determined and strong-willed lady who overcame many life changing obstacles living to age 94!
Clara had a unique or rare gift of attracting strangers who would become lifelong friends, from the Safeway grocery clerk, to the home care workers, to neighbors. She had this knack or flair that attracted virtual strangers to befriend her.
One of her great passions was going to Assiniboia Downs to watch and bet the races with her aunt Rose. She also loved to go the casino at the Fort Garry Hotel, seldom if ever losing. She also loved to play poker and Blackjack or 21 as it was known at the weekly card games with friends and relatives.
The family would like to thank the staff on Weinberg 3 at the Simkin Centre for their care and attention to mom's needs especially Jane, Evelyn, Roma, "Bong" and Connie the dietician.
She is survived by her sons David and Garry, daughter in law Susan and grandchildren Jared and Shayna.
Her funeral took place on April 19, 2020 at Shaarey Zedek Cemetary with Rabbi Annibal Mass officiating.
Pallbearers were Andrew Brick, Rob Trachtenberg, David Wiwierski, Garry Wiwierski, Jared Wiwierski and Shayna Wiwierski.
She will be sadly missed!