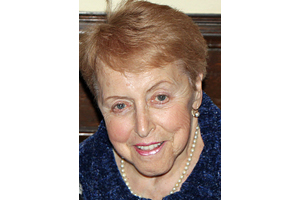 It is with great sadness that we announce the passing of our dear mother and grandmother, Liubov (Liuba) Dimerman, who died peacefully at the age of 89 at her home in Kfar Saba, Israel on April 17, 2021.
Liuba was predeceased by her beloved husband, Leib (Leon). Left to mourn are her children, Joey (Sara), Sheldon (Osnat), Ian (Jennifer); grandchildren, Chloe and Talia, Sean (Noya), Dan, Lihi, Sam and Jacob; great-grandson, Adam; brother, Asher Katz; sisters-in-law, Edna Eizenstein and Lucia Dimerman; and countless nieces and nephews.
Liuba was born on November 7th, 1931 to Bunya Leah and Yehuda in Kaunus, Lithuania.
She married Leib in 1958 and together they moved to Canada to build their life together. Liuba attended the University of Manitoba, where she obtained Bachelor & Masters degrees. She became a teacher, spending over 30 years teaching math and physics at the Winnipeg Adult Education Centre, where she inspired thousands of students to complete their high school education. She had a great passion for teaching and made many life-long friendships with colleagues and her students.
Liuba enjoyed music, learning to play piano and singing in her choir group. She loved to travel and experience different cultures. She especially enjoyed all of her trips to Israel to spend time with her wonderful extended family.
She loved spending time with her children and grandchildren. We will cherish all of the late night chats over tea and something sweet. Our mother will forever be remembered for her encouragement and telling us to never give up.
May her memory always be a blessing
Donations may be made in her honour to the Liuba Dimerman Memorial Fund to support Gray Academy of Jewish Education set up through The Jewish Foundation of Manitoba, 204-477-7520.