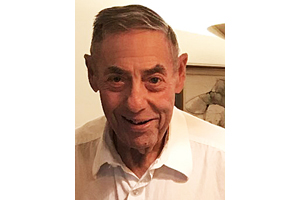 With heavy hearts we announce the passing of Burt Gorenstein on March 31, 2021 at the age of 85.
Burt grew up in Winnipeg, Manitoba and attended the University of Manitoba, where he graduated with a Masters degree in Microbiology.
After marrying Jackie Hyman in 1960, they moved to Toronto, then then to Montreal, and finally settled in Ottawa.
After working for Agriculture Canada, and dreaming for more, he came up with a unique idea for a consulting business – one which had never been seen before in Canada. He opened up Eticon Consultants in 1974, and never looked back.
Burt enjoyed the simple pleasures in life. He loved listening to classical music and was a longtime regular at the symphony at the National Arts Centre.
One of his favourite pastimes was tending to his impressive gardens. He also loved to fish, and was well-known for his homemade jams, jellies, pickles and sweet red peppers.
Burt was predeceased by Jackie, his beloved wife of 60 years, and his sister Reva Subar, of Providence, RI.
He is lovingly remembered and missed by his children Alan, Karen and Joanne, his grandchildren Daniel, Ehryn, Carter and Sacha, as well as his sister Libby (Gillman (Gary) and his brother-in-law Gary Hyman (Miriam Corne).
In honour of Burt, donations to Jewish Education Through Torah (JET) would be appreciated – 1-613-695-4800. Burt was a longtime member of the biweekly Talmud classes.