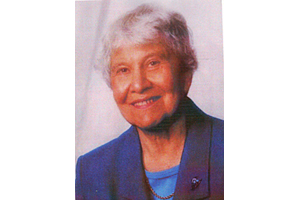 Bernice Marmel was born in Arran, Saskatchewan as Ethel Bernice Macklin. After moving to Winnipeg, she resided at the Winnipeg Jewish Orphanage and then went on as a teenager to live with her aunt and uncle Fred and Sarah (Hechter) Sures in River Heights.
She attended Robert H. Smith Elementary School before graduating from Kelvin High School. After marrying Max Marmel she moved to West Kildonan where she lived most of her life. Bernice obtained her Bachelor of Arts Degree at the University of Manitoba and much later in life her Masters Degree in Health Education.
Bernice had a lifetime of extraordinary service to others, especially to those whose poverty makes them more vulnerable. As a senior citizen, she was concerned naturally for other older Manitobans, but also worked for adolescent parents and school-aged children.
Throughout her life, Bernice was sometimes employed by organizations and sometimes worked as a volunteer. In fact, Bernice's loyalty to the people whose concerns were at the heart of her work often caused her paid work to segué into volunteer work whenever funding ran out. She cared too much about the people and issues they faced to put projects aside.
Bernice believed in the possibility of working with people to enable them both to do what was needed and to grow. This was her method of working. When setting up a fitness program at a north end church, she taught the people how to apply for government funding. In a project she initiated, while with the Nor'West Health Cooperative, she enabled children who lived in a social housing project to speak out about their own health needs. This project was recognized with the Canadian Healthy Communities Project Certificate of Distinction.
Bernice served on countless volunteer boards and committees. Some of the groups that have benefited from Bernice's work include the Manitoba Council on Aging; the Social Planning Council of Winnipeg; Mount Carmel Clinic; The Urban Idea Centre; the North End Women's Resource Centre; the Food Network; ALCOA; and the Winnipeg Public Library Board.
Bernice was often ahead of current thinking, for example on sexuality among older people. A paper she wrote advocated for older people to continue to be regarded as sexual beings long before such thinking was prominent. Her work also addressed the problem of social isolation among seniors, establishing a Friendly Visitors program for the Age and Opportunity Inc., and a phone link for seniors from Deer Lodge Hospital. She was instrumental in the establishment of both Macbeth House and Bleak House senior centres in Winnipeg's North End.
Bernice was long concerned about the pressing need for affordable housing, especially, but not solely for seniors. Among other groups, Bernice was part of the housing committee on the Council on Aging and also sat as part of the coalition on housing called together by the provincial government.
Bernice won many certificates of recognition and awards for her work, including ones from the Lord Selkirk West Kildonan Community, also Winnipeg's KLINIC's suicide prevention program, SPEAK. In 2002, she was given the Queen's Jubilee Medal. In 2016, she received the Murray and Muriel Smith Award, the highest award by the Manitoba Council on Aging. Finally Bernice was awarded the Order of Manitoba in 2018, the highest honour amongst all others conferred by the Manitoba Crown. This award was for excellence and achievement in any field that benefits the well being of Manitoba and its residents.
Bernice travelled extensively for pleasure, usually on stand-by, all over the world. England, Columbia, and Tunisia were some of her favorites.
In addition to her extensive community work, Bernice was a devoted mother, sister and Baba. She acted as a strong role model for her family in her dedication to her community and relentless support for vulnerable individuals. Her calm and cheerful demeanour stuck with her over the last few years of her life, even when her ability to communicate became limited. You could always count on her to be smiling.
Bernice was predeceased by her parents, Sam Machlin and Rose Hechter-Machlin, and her brothers, Gerry, Joseph and Dr. Allan Macklin.
She will be fondly remembered by her daughter Rosalind, son Lawrence (Tam), grandson Shane Marmel and granddaughter Dr. Allison Marmel (Dr. Yale Michaels).
Funeral service and burial took place at the Rosh Pina Cemetery on April 30, 2021, officiated by Rabbi Kliel Rose.
Pallbearers were: Dr. Billy Kettner, Dr. Joel Kettner, Bruce Kettner, Brian Scharfstein, John Michaels, and Jamie Michaels.
In lieu of flowers, donations may be made to the Max Marmel and Bernice Macklin-Marmel Fund for the Gray Academy at the Jewish Foundation of Manitoba, 204-477-7520.